UPDATED 3.30PM: The catamarans blocking The Mall in Pilot Bay have been removed.
Mount Cats and Yaks owner Nevan Lancaster says four of his catamarans, which he rents to people during the summer, were picked up by a 'mini-tornado' and dumped on the road.
"Someone called me and I was there about four minutes later. Normally they're tied down, but there's not much you can do when a twister comes."
He says they were off the road by the time he arrived on the scene.
"A whole bunch of people helped out. They're fairly heavy, so it was an impressive piece of wind to pick them up."
He says one mast is broken, but other than that the damage is minimal.
"I'll definitely be back next summer."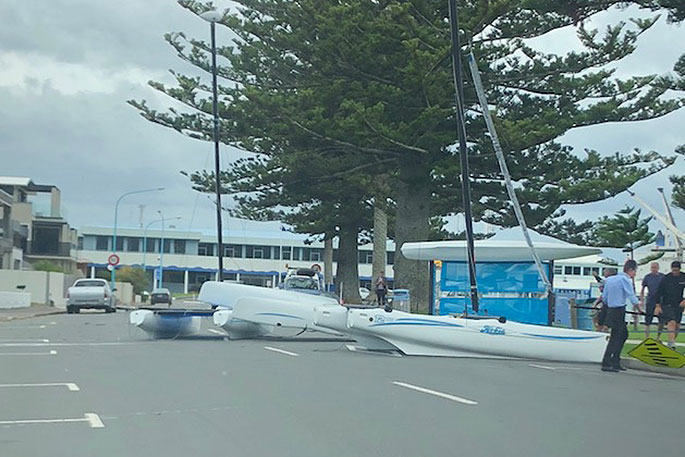 Very strong winds along Pilot Bay. Photos: Victoria Goldsbro.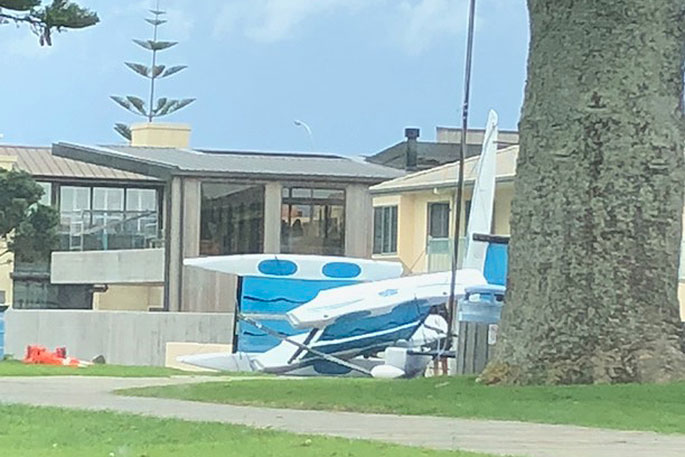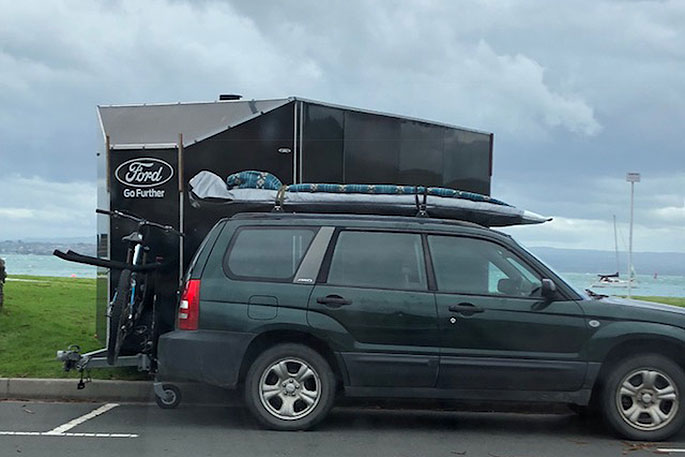 EARLIER:
Strong winds are showing their presence with pair of catamarans being blown up on Pilot Bay.
A SunLive reader emailed in a photo of the two yachts blocking The Mall in Pilot Bay.
"It was kinda funny, all the boys that were on one of the building sites came to the rescue because it was about to go straight into a house.
"I think it was sudden gust of wind, it's so windy down there. There is already a few small branches falling from trees and the palm trees through the street are losing bark."
The reader says the wind has also blown "one of those small dinghy boats that you hire up the Bay, but still in the water".
Another person says it was a mini-tornado that whipped through the region.
There are also reports of a tree down near Maungatapu.
Motorists are being warned drive with care as the weather system battering the North Island is expected to sweep over the Bay this afternoon.
Meanwhile, a severe weather warning remains in place for strong winds in the Coromandel from 7pm this evening until 1am tomorrow with severe gale west to southwest winds, gusting up to 120km per hour.
"Heads up from Civil Defence - keep an eye on the high tide at 2.30pm this afternoon, especially for the coastal communities on the Thames Coast Rd, SH 25, as high winds are expected around the same time," says Garry Towler, our Civil Defence Controller.
"It's also important to stay informed before, during and after emergencies.
"The more avenues of communication available to you, the better, see below for some we recommend."
The roads are open and we have had no reports of flooding, or power outages, however driving may be hazardous, especially for high-sided vehicles and motorcycles.
Strong wind gusts could damage trees, power lines and unsecured structures. So make sure you tie down any outdoor furniture, trampolines, etc.