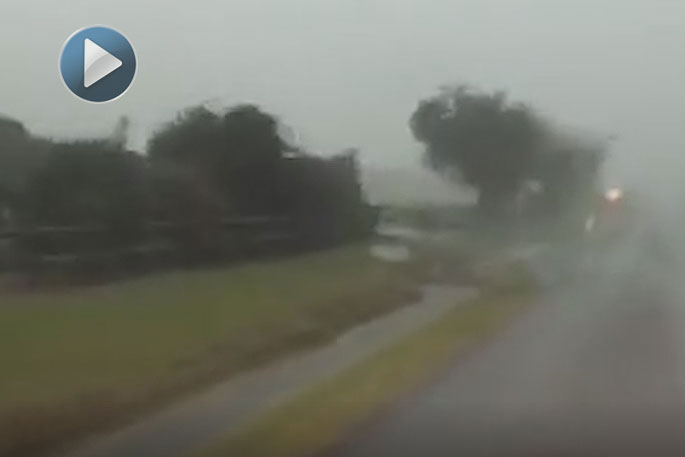 Click the image above to watch the video
Tauranga residents are being warned to brace for a weather system which has swept the North Island today.
Two tornadoes have caused widespread damage in Taranaki and the National Park Village near Ruapehu.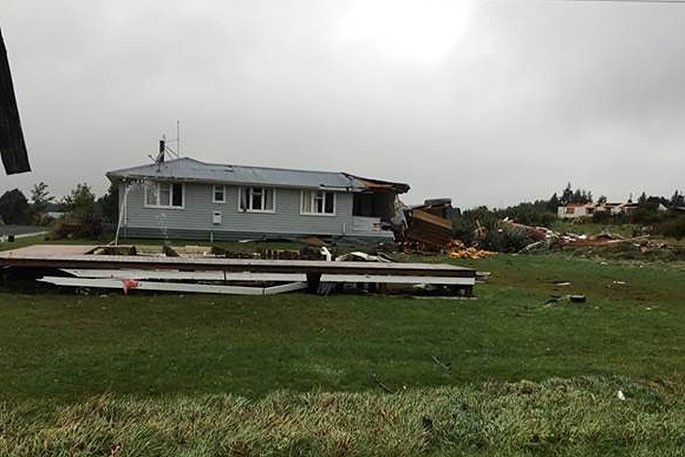 Destroyed house National Park. Photo: Ruapehu District Council.
Tauranga can expect the weather system to arrive about lunchtime as a complex trough crosses the Central North Island.
Tauranga is on watch for severe wind, but is on warning for severe thunderstorms.
The thunderstorms are associated with the complex trough in front of the low pressure system and is expected to arrive over Tauranga about lunchtime, says MetService meteorologist April Clark.
Footage originally published on Stuff shows a truck driver caught up in the tornado.
A truckie driving in Taranaki got more than he bargained for when a tornado crossed his path on Tuesday morning.
Rick Field was driving his rig near Kaponga when the weather progressively got worse.
Lightning turned to torrential rain, and with it gale force winds.
However conditions got worse still and when rain started flying past the truck's windows Field realised he was in a twister.
Watch the video above to see what Rick experienced.
WHAT THE STORM'S BROUGHT SO FAR:
- A tornado has destroyed six homes in the National Park Village, Ruapehu
- Power is out and there is significant damage to power lines
- Police search and rescue is on its way to the National Park region
- A welfare centre has been set up at National Park School for those affected by the storm
- Earlier, another tornado ripped through coastal towns in Taranaki, felling trees and bringing off roofs
- Up to 3200 properties have lost power in Opunake, Rahotu and Warea
- Several schools are closed for the day in coastal Taranaki
- Torrential rain, thunder and lightning have hit communities on the west coast south of New Plymouth
- MetService has issued a severe thunderstorm watch for most of the North Island
- Heavy rain and 120kmh winds are to hit Auckland
- Flights out of Auckland Airport to Napier, New Plymouth and Palmerston North have been cancelled
- A thunderstorm in Wainuiomata, north of Wellington dropped 17mm of rain in an hour
- Strong winds have reached gale force in some places. A gust of around 110kmh at Mt Kaukau was recorded in Wellington. A strong wind warning is in place for vehicles driving on the West Coast's SH6 from Ross to Haast
- Snow in Arthur's Pass and other parts of the South Island High Country
- SH67 between Westport and Karamea is closed after a shed roof lifted off
- Canterbury's Porters Pass closed to towing vehicles due to snow, chains essential for others
- Temperatures have dropped to freezing in some parts of Canterbury
WHAT'S TO COME:
- Snow, possibly as low as 300 metres in parts of Canterbury, along with heavy snow in the Kaikōura Ranges and Canterbury Plains and High Country, as well as in Otago, Southland and Fiordland
- Road snow warnings for the high passes in the South Island, from Dunedin to Waititi and the Desert Rd
- Risk of severe thunderstorms, with gusts to 110kmh and possibly with damaging tornados for all the top half of the North Island, as well as some areas further south
- Severe gales are expected about northern parts of Westland and Buller, the Marlborough Sounds, Wellington, Kāpiti Coast and Horowhenua, Taranaki, Waikato, Auckland and the Coromandel Peninsula
- Gusts to 120kmh are expected for a time on Tuesday evening in Waikato, Auckland and Coromandel Peninsula, and on Tuesday afternoon into the night for Taranaki, Kāpiti Coast, Wellington, Horowhenua and the Marlborough Sounds
- Gusts could get to 140kmh in exposed areas of Buller and northern Westland on Tuesday morning
-Originally published on Stuff.co.nz