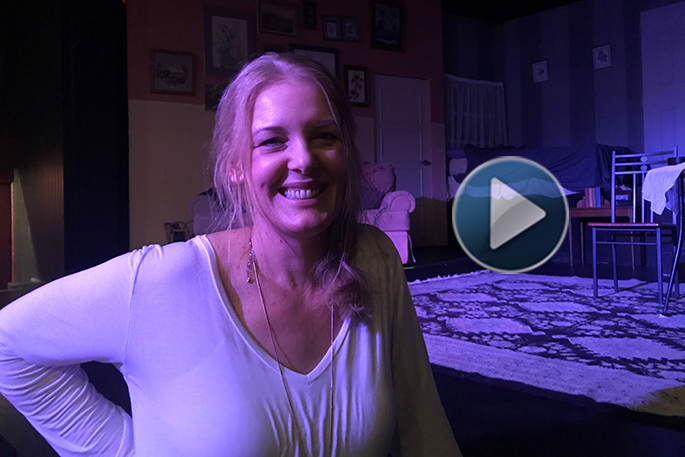 Click the image above to watch the video
Meet Victor and Joan Smiley. They are married but definitely not smiling. In fact they hate the sight of each other, particularly on Sundays.
Both are prickly, mean and bickering at the other. Victor, played by Alan Liddell, sees a way out and decides to run off with Kamila Walcak, a Croatian call girl played by Andrea Finta.
Meanwhile Joan, played by Jaine Kirtley, has become charmed by Don Kirk, played by Callum Armstrong, who speaks in Cockney rhyming slang, which linguiphiles will find vastly enjoyable. This, along with Don's humming, which is also one of Victor's irritating traits, threatens to enrage Joan.
Victor, in order to start a new life with Kamila, decides he must remove Joan from his current life. While Joan feeds off CSI type television programmes, Victor soaks up old crime mysteries, plotting how to kill his wife.
'The Perfect Murder', written by Peter James, is directed by Melissa Osgood in her first solo outing as a director at Sixteenth Ave Theatre. She has previously directed at other theatres and has masterfully spun her magic over this mystery comedy.
"There are 53 rules for the perfect murder," says Victor to Kamila. She is already distancing herself emotionally from his preoccupation, but finds herself brimming with enthusiasm when he tells her how much Joan's life insurance is worth.
Jaine Kirtley as Joan is superb, both petty and sparkling. She shines in the role, glamorous one moment, and fretful and agitated the next, bickering with Victor and later with Don. She squirms marvellously when under the scrutiny of Detective Constable Roy Grace, played by David Guy.
The split-level set cleverly conceals a turntable transporting the Smiley's drab lounge into a luxurious boudoir through soft lighting with mauves and mellowed music luring us into the encounters with Kamila. The set design and costumes are so 'right' that you nearly don't notice the detailed subtleties. The technical team manage to pace well, their timing and expertise providing that extra lift that enhances the action on stage.
Dark humour, comic timing, smooth set changes, and tuned acting. Andrea is believable and enjoyable, capturing Kamila's psychic role and accent with such ease you wonder if English is in fact her second language.
An enigma, a mystery, or a dark comedy - for me this is a story of a wonderfully pedantic and plodding sleuth trying to get to the bottom of what was going on. Who was murdered? Who was the murderer? Was there a murder? As the audience we are pulled along for the ride, thinking we know the answers. It reminds me of trying to get to the bottom of Charles Dickens' 'The Mystery of Edwin Drood', a novel that was left unfinished when the author died suddenly halfway through writing it. If I return to 16th Ave Theatre on another night, will the play end differently? I think yes!
The play runs until Saturday March 24 at Sixteenth Avenue Theatre. Don't miss it.