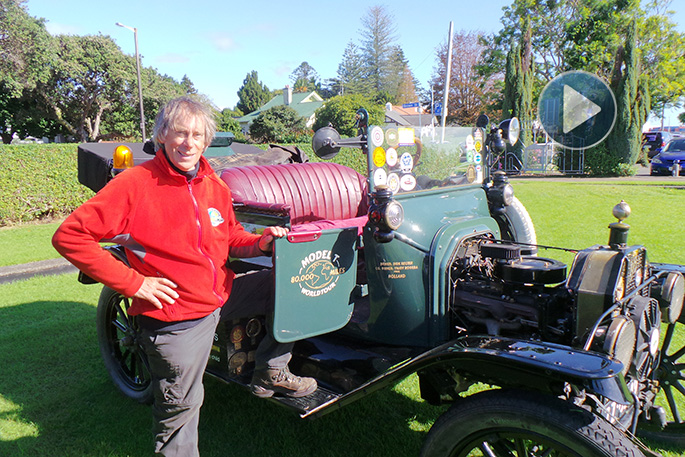 Click the image above to watch the video
A car more than a century old visited the Bay of Plenty Vintage Car Club on Tuesday morning, as part of a global tour.
The 1915 Model T owned by Dirk Regter rolled up to the club's headquarters on Cliff Road on the final leg of its New Zealand tour.
He and his wife Trudy have been touring the world to raise money for SOS Children's Villages, a global charity for orphans.
"This is our last week before we head to Australia," says Dirk. "We started in Christchurch, before crossing at Arthur's Pass to the West Coast. We went down to Invercargill and back up to Dunedin, before heading up to Nelson and catching the ferry from Picton to Wellington. After that we drove along the east coast and ended up here in Tauranga."
So far they've travelled more than 50,000 miles all over the world, raised 50,000 euros (around NZ$85,000) and are planning to do a clockwise loop of Australia next.
"We have a website where people can read about our travelling adventures and donate online too."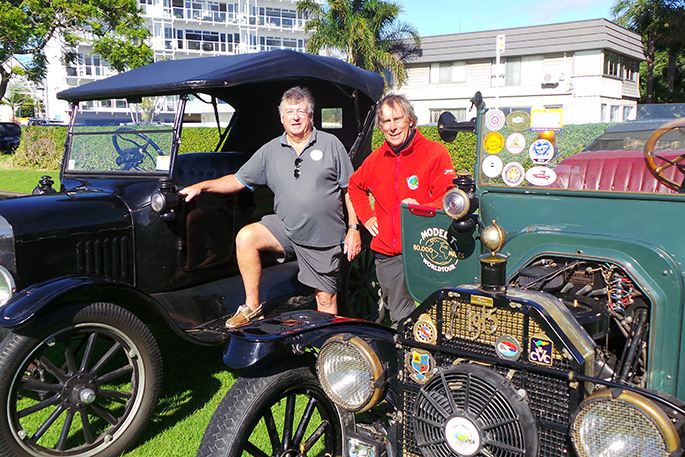 Bay of Plenty Vintage Car Club chairman Jim Smylie with his slightly younger Model T next to Dirk's.
Trudy accompanies Dirk in a 'support' vehicle, which is necessary as the car sometimes needs to odd repair to keep it going.
"I've also done some modifications to make it safer," says Dirk.
He first got the car in 2007, when he drove it from Beijing to Amsterdam with his son, raising more than 130,000 euros (NZ$220,000) for children's projects in Mongolia.
Since 2012 he and Trudy have driven through Africa, North America, and South America, while taking the odd break to spend time with family.
To find out more about the tour or to donate, visit www.tfordworldtour.org.