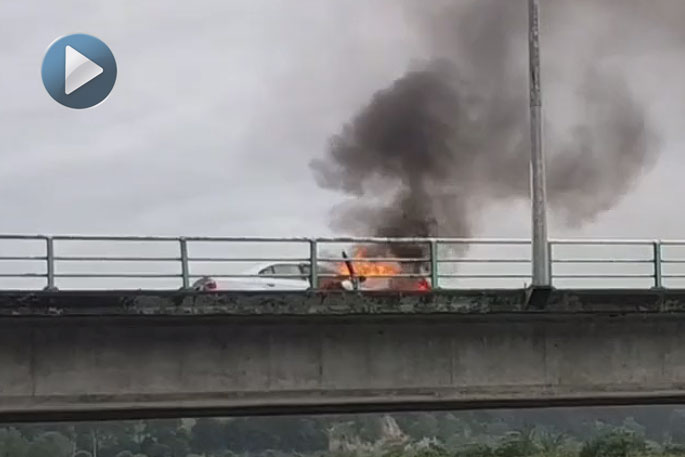 Click the image above to watch the video
A police pursuit this morning resulted in several sets of road spikes being deployed, which reduced a fleeing vehicle to rims and caused it to catch fire.
Police first saw the vehicle near Katikati at around 9.30am.
A police spokesperson says the vehicle had been driving suspiciously in Waihi, but a pursuit was not initiated.
"Instead, police followed at a distance, observing the car, which at that time was driving within the speed limit."
She says police then set up road spikes near the Wairoa Bridge on State Highway 2.
"As the car headed toward the bridge, the driver spotted police and did a U-turn, driving away at speed."
Police initiated a short pursuit but abandoned the chase a short time later.
"Road spikes were deployed in Whakamarama Road and at around 10.15am the car went over those spikes, blowing the front left tyre of the car.
"The car continued on, towards Ross Road, driving on the rim of the front left tyre."
A further set of road spikes were set up at the intersection of Youngson Road and Old Highway, says the spokesperson.
"The car went over these spikes also, then turned on to Barrett Road and State Highway 2.
"A further set of spikes were deployed near Wairoa Bridge, where police observed the underbody of the car appeared to be on fire."
The driver abandoned the car and jumped into the Wairoa River, swimming towards the ocean.
Officers followed the man along the river bank and took him into custody when he came out of the water near an inlet.
Police say he is likely to face a number of charges and more information on those will be available later today.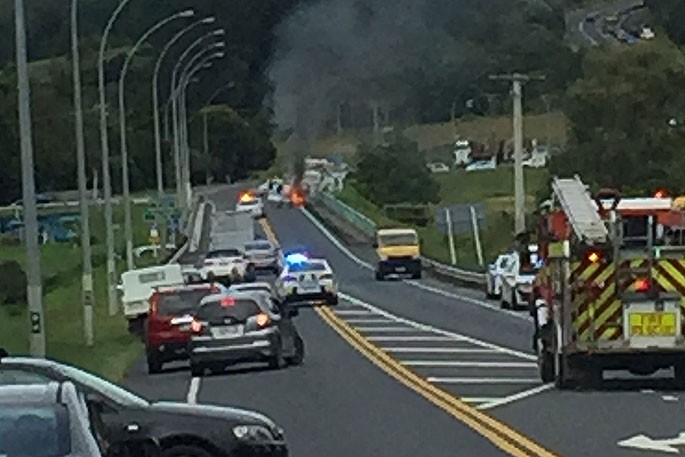 The car on fire on Wairoa Bridge. Photo: Dan Iaccarino.