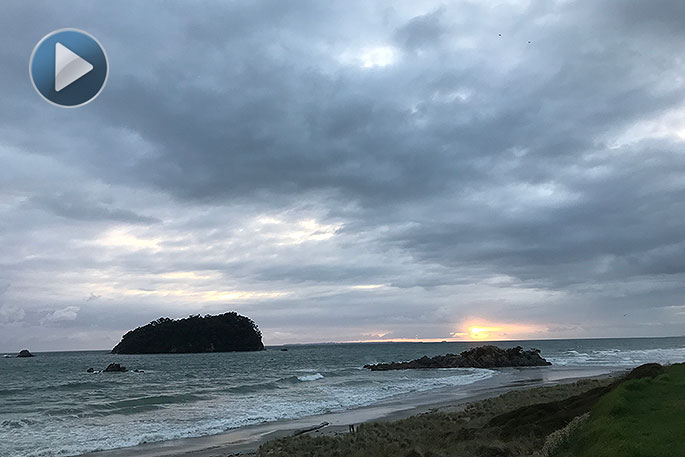 Click the image above to watch the video
Today is the first day of March and there's a mild touch of autumn in the air.
We are expecting a cloudy day, with a few showers and northeasterlies.
It's a one-clothing-layer day today with a high of 23 and an overnight low of 20 degrees. Humidity has dropped to 71 per cent.
Low tide is at 1.10pm and high tide at 7.20pm. There's a swell of .5m, sea temperature is 22 degrees and sunset tonight is at 7.53pm.
If you're going fishing today the best fish bite time is from 11.30am to 1.30pm.
This day in NZ history in 1862 British-born tenor Charles Thatcher gave his first New Zealand performance at Shadrach Jones' Commercial Hotel in Dunedin.
In 1916 the New Zealand Division was formed. After the evacuation from Gallipoli in December 1915, New Zealand forces returned to Egypt to recover.
In February 1916, it was decided that Australian and New Zealand infantry divisions would be sent to the Western Front. On March 1, the New Zealand Division was formed.
This day in world history in 1780 Pennsylvania became the first U.S. state to abolish slavery.
In 1875 the US Congress passed the Civil Rights Act. In 1912 Albert Berry completed the first in-flight parachute jump, from a plane in Missouri.
In 1932 the Lindbergh baby was kidnapped from the Lindbergh family home in New Jersey. In 1943 the British RAF conducted strategic bombing raids on all European railway lines.
In 1985 the Pentagon accepted the theory that an atomic war would block the sun, causing a "nuclear winter."
Today is the birthday of composer and pianist Frédéric Chopin who was born in 1810. Today is also the birthday of Robert Lowell (1917) Richard Wilbur (1921) and Howard Nemerov (1921) who between them won the Pulitzer Prize for Poetry four times. Howard Nemerov once wrote "I've never read a political poem that's accomplished anything. Poetry makes things happen, but rarely what the poet wants."
To get involved in some of the many activities happening around the Bay, please check out our What's on page.
Have a great day!