A further four Tauranga youngsters have just secured places in a coveted national junior swim squad.
Renee Carey, 11, Henry Scholes, 10, and siblings, Grace, 10, and Poppy Richardson, 8, won their age groups at the Legend of the Lake swim held in Rotorua last Saturday February 17.
This was the third of six qualifying events in the seven swim Banana Boat New Zealand Ocean Swim Series.
Their wins in the 200m OceanKids event have secured them a place in the Jetstar Super Swim Squad. This means they will travel to Auckland with a caregiver for a weekend camp in April, where they will be taught by an elite coaching team made up of top New Zealand swimmers in both a pool and ocean environment.
Throughout the season, each qualifying event will allow children the opportunity to earn a place in the 36-member squad.
For Poppy and Grace Richardson, this was their first time qualifying for a place in the Squad. Both girls trained for the event with pool, life saving and ocean swim sessions. They were cheered on by their parents and younger brother as they crossed the finish line.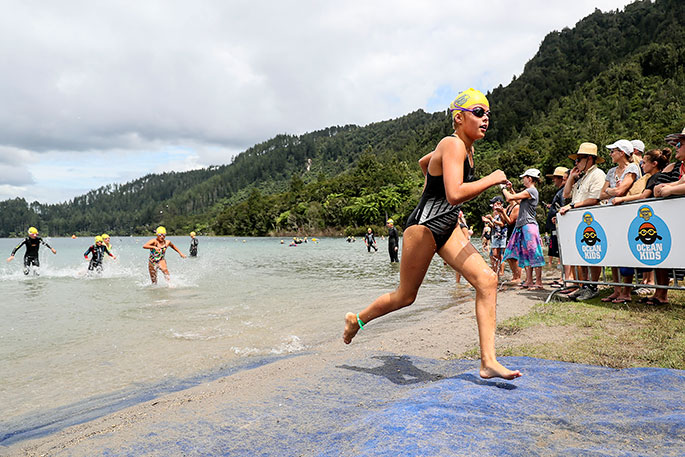 Grace Richardson wins her place in the Squad for the first time. Photo: Simon Watts/BW Photography.
Amanda Richardson, Poppy and Grace's mother, says the girls are stoked.
"The girls were amazed, and relieved, when they found out they had won. We hope the camp continues to foster their love of swimming and that they learn some new skills, meet new people and are inspired."
For Renee Carey and Henry Scholes, this will be the third time that they have qualified for the Squad, having previously attended the Camp in 2016 and 2017.
"I am looking forward to the training sessions with the coaches," says Renee.
They join fellow Bay of Plenty swimmers Talitha McEwan, Ryleigh McEwan and Liam Shanahan who qualified for the Squad earlier this season.
Scott Rice, Banana Boat New Zealand Ocean Swim Series, Event Director, says the squad is beneficial to young atheletes.
"The Jetstar Super Swim Squad continues to nurture New Zealand's budding young swim stars, bringing them together to hone their swimming skills and confidence alongside their swimming peers and New Zealand swimming elite.