A Dunedin technological entrepreneur has joined the debate on discussions about Tauranga bringing a new museum to life.
At a special breakfast ceremony at Tauranga Club this morning, Animation Research CEO Ian Taylor shared his thoughts on the benefits of the development.
The occasion was arranged by Taonga Tauranga, a group of Tauranga residents with an interest in the museum development who encourage widespread public discussion about the proposed museum and its role as an economic and social game changer.
He spoke about the significance of honouring history.
'The footprints laid down by our ancestors hundreds of years ago are the paving stones of our journey here today.
'In the Maori world view, it is believed our past is always in front of us. I can absolutely recommend if you have not looked at your life like that you should do so from today.
'When I was growing up I could have never imagined I would be using this thing called a computer, the internet or Google earth to take you back to the house I grew up with, a house with no electricity.
'I was seven and it was 1957 before a man from the power board linked that house to electricity and brought power to the house.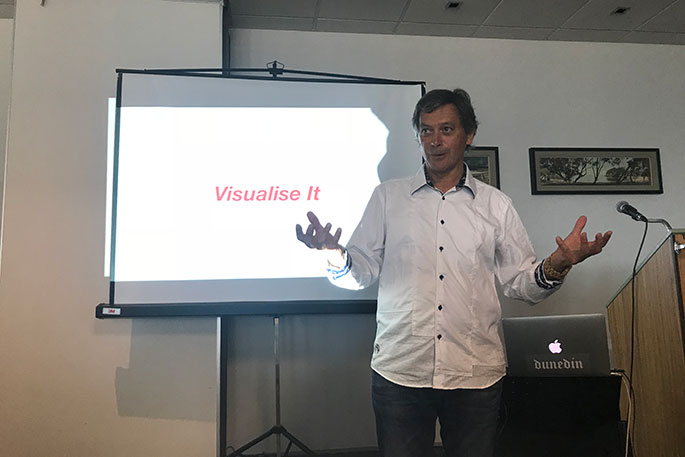 'If we come back to this Maori world view that the past lies in front of us, I look out to this house to that time in 1957, I can still see the shirt I was wearing, and this is an unconnected line to where I stand today," says Ian.
'I'm convinced as a seven-year-old, seeing electricity being brought to that house, seeing us going from a safe in the wall to a refrigerator, seeing a coal range go to an electric range, battery powered radio to wireless, I believe back then was the time my journey started in believing anything was possible.
'It's really important you keep those footsteps and what else is a museum than those footsteps you laid in the past."
His software, Virtual Eye, is the sports division of Animation Research Limited and specialises in real time sports animations.
Based in Dunedin, the company provides its services to a wide range sports organisations around the world.
It's most widely known for its real time sailing graphics package and is also involved in golf, cricket, motorsport, and a variety of air sports.
'Dunedin is my home and it is where I started my company which still operates from there today," says Ian.
'In 1992 I paved the footsteps for the way the world views America's Cup and sport in general by starting my business. I took up golf and said get me to the best games in the world for free.
'We're one of only two companies in the world that does VRS, we built the racing car simulator for the McLaren formula one team, and we built the air traffic control simulator that trains all the traffic controls here and in Saudi Arabia.
'I look at this and it all lies in front of me. Those are the footsteps that brought us to the world we live in today.
'Some people find it strange that this is coming out of Dunedin, but we don't. We are a city of firsts and have many things to be proud about.
'We have our own story, but can you say you have your own story here in Tauranga?"
He says Tauranga can benefit from following the models which have brought Dunedin to be the city it is.
'Tauranga is now the fifth largest city in the country, it has taken the place of Dunedin.
'When the discussions first started, I remember thinking gee Dunedin is in trouble. This place is not only bigger, but it's going to expand. Three years later and I have no fears that is going to happen at all.
'I've been asked to take part in the debate around whether you should have a museum here and I find it funny it is even a debate.
'Tauranga is arguing, discussing and even contemplating having a referendum about the value of a museum.
'Dunedin has nine museums and we're smaller than Tauranga. We just spent $37m on refurbishing one of those and $12m in another one.
'I love the idea that Dunedin knows who it is and how to tell their stories. We have cruise ships in Dunedin too.
'When people get back on their cruise ships here they leave knowing more about Rotorua, when they leave Dunedin to get back on the ship they leave knowing more about Dunedin."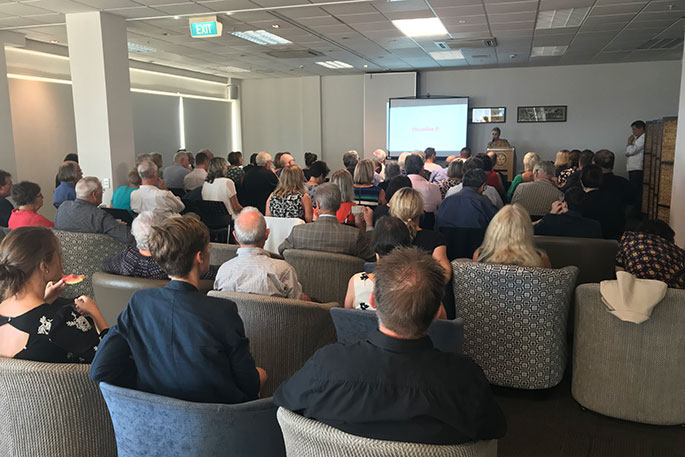 Former Tauranga City Council mayor, Stuart Crosby says the presentation highlighted some significant points.
'I've seen Ian present before, his presentations are very visual and I guess that's his point. If you have a vision and use visuals it's a lot easier for communities to engage.
'Another message he shared is history is so important. When I was the mayor of Tauranga I was confronted with history every day trying to move the city forward, so I completely agree with that."
He says he resonates with Ian's talk.
'There are some very good additions to the plans for the CBD, with talk of museums and upgrades, that is a good start but I think there's a lot of frustration as well.
'What a lot of people want to see is less talk and more action"
Bay of Plenty Film CEO Anton Steel agrees Ian raised significant points.
'It was really inspiring to see the vision people have in Dunedin. It's something I'd love to see replicated in the Bay of Plenty.
'We are blessed with resources, people and talent, I'd love to see something along those lines shine."