A Bay of Plenty couple with a mission to do good for those less fortunate, are set to return to South Sudan for the second year in a row.
Amy Nilsson, a nurse, and Travis Nilsson, a builder, say they're returning to the war-ravaged country because there is still so much work to do.
"One of the first things that encouraged us to head over was hearing about two kiwi doctors who live and volunteer in South Sudan with their family.
"We found about them and we were super passionate to serve, so we ended up heading over there for six months last year."
The couple married in January of last year and spent the first six months of their marriage volunteering.
"While Trav was helping with building a new clinic, I was running a ward for very ill children and mothers.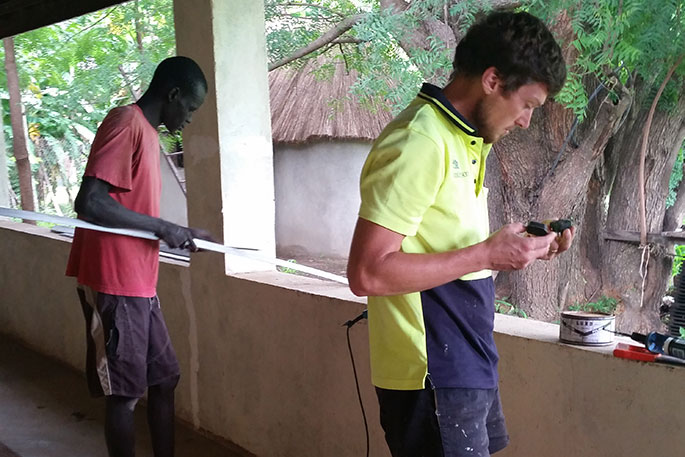 "We've been overwhelmed by how much work there is to do there, there's so much need and suffering.
"We worked so hard when we were there last year and we felt like we needed to go back because there's so much more we can do."
This time around Travis will be leading the build of a child and maternity ward, designed as a space to treat patients.
"At the same time he's going to teach some of the local guys the basics on how to build.
"The current ward is very run-down, dirty and bat invested. It's also way too small for the numbers we see in the heat of malaria season and lacks the basics of even a wash basin to wash hands between patients."
Amy says she will continue to run the current ward and educate local community health workers lacking basic health education.
She has done volunteer work in Thailand, Vanuatu and Zimbabwe and her husband has previously done builds in Vanuatu as well.
She says it's a big sacrifice going back.
"We are leaving our home, our jobs and our family - putting ourselves at risk in a very unstable country - to serve the poorest of the poor. South Sudan truly is one of the poorest nations on earth. It has nothing.
"I will have to quit my job and we will have to rent our house out. Last time around I was lucky in that I was able to take leave and we were able to hold my role, but this time I've unfortunately had to resign."
She says they will be returning in April.
The trip is completely self-funded and the couple is now appealing for donations to help them along the way.
Those who would like to make a donation to help them on their way can do so through their Givealittle page.