A new book on the history of the Treaty of Waitangi in Tauranga is hoped to be both a useful educational resource for schools, as well as an item of interest for locals looking to learn more about the city's history.
Librarian and author Debbie McCauley received the first 2000 copies of her latest book, 'The Treaty of Waitangi in Tauranga', at her Gate Pa home on Thursday morning.
She was joined by local artist and carver Whare Thompson, who illustrated some sections of the book.
"We were never really taught about the Treaty of Waitangi at school," says Debbie, explaining her motivation behind the project.
"Children are taught about it now, but local kids don't really hear much about it a Tauranga context. So I thought it would be good for kids to learn about it and maybe visit the places here where the Treaty was signed."
She says there are nine sheets that make up the Treaty of Waitangi, with this book covering the history of just one of those sheets.
"So there's an opportunity for other authors to write local histories about the other sheets, too."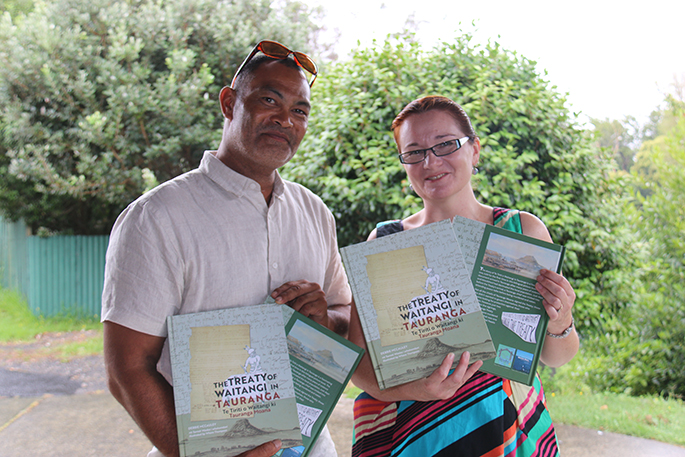 Whare Thompson and Debbie McCauley with copies of 'The Treaty of Waitangi in Tauranga', a new book about the history of the Treaty in the region.
The hard-cover, full-colour book is 48 pages, and covers in detail the timeline of the Treaty in Tauranga, right up until the present day.
It also contains all of the Tauranga signatories, including their names, iwi/hapu, biographies, and copies of the marks they made on the Treaty sheet.
Whare, who was approached by Debbie to illustrate the read-along story that runs down the side of each right-hand page of the book, says it's been a departure from his usual art style – he hasn't done these sort of illustrations for more than 20 years.
"It's been a big learning curve for me," he says. "My partner is from Tauranga, so I spent a lot of time asking her for background info. I'm also fortunate to have such a great relationship with local iwi, who were very helpful."
The read-along story is also bilingual, with the Maori text translated by Tamati Waaka.
Debbie hopes to get copies to libraries and Books A Plenty before Waitangi Day (February 6).
She has previously published two other titles about Tauranga: Motiti Blue and the Oil Spill: A Story from the Rena Disaster and Taratoa and the Code Conduct: A Story of the Battle of Gate Pa.
For more information on the book, check out the Mauao Publishing Facebook page.