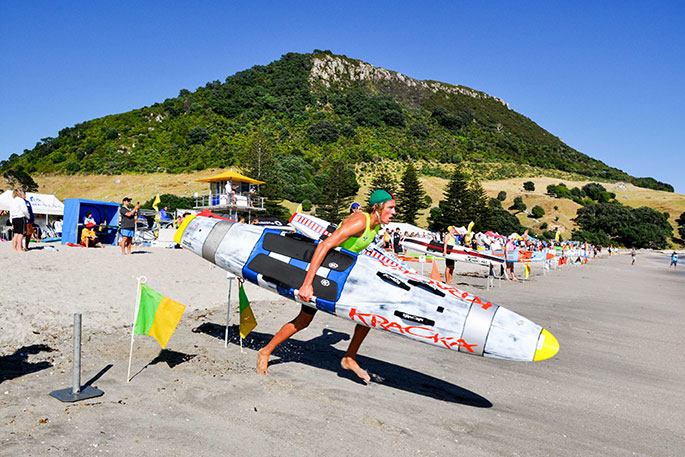 Click the image above to watch the video
Good morning Sunners and welcome to a busy first day to the long weekend.
If you are going away over the weekend or just staying in the Bay be aware Tauranga traffic may be a bit hectic, with four major events on today as well as road closures.
Eastern Region Champs
To hit this sunny morning off surf lifesavers gathered at Mount beach for the annual Eastern Region Championships, which will be running for two days.
Hundreds of athletes from around the country take part in this event, and this year was no exception with 850 athletes competing this year.
The largest team to compete at the 2018 ERCs is Red Beach Surf Life Saving Club, with a total of 88 athletes, followed closely by the local team from Mount Maunganui Lifeguard Service, with 75.
Joining them, and fresh off their dominant performances at the Central Regional Championships, are New Plymouth teams Fitzroy and East End Surf Life Saving clubs, with 27 and 25 athletes respectively.
SLSNZ Eastern Region Sport Manager Mark Inglis says the event is shaping up to be one of the most competitive this season due to the large number of athletes along with their sheer skill.
"To have over 800 athletes, including a lot of New Zealanders who compete overseas competing here in Tauranga, is simply fantastic," he says.
"Year on year, this event is one of the largest on the calendar and we're proud to be continuing that tradition."
Billabong Grom Series
Another water challenge is the Billabong Grom Series where under 20-year-olds will face the best surfers in their age group.
The 2018 edition of the Billabong Grom Series will be split into four divisions ranging from Under 14 through to Under 20 in two year increments aligning with the National Championships and representative age groups.
Starting this weekend, entrants will also surf for points toward their boardrider club ranking.
This will take place throughout the Billabong Grom Series and the remainder of the junior events held around New Zealand. The points system will determine an overall club champion by the end of 2018.
One Love
If you were lucky enough to get a ticket to One Love, you are in for a real show. If not you still may get a show as well with the sound of reggae spreading across the Bay.
One of Tauranga's biggest music festivals, One Love, will be held over two days at Tauranga Domain.
Today's line up are Tyneegiant, Lomez Brown, Swiss, Anuhea, Black Uhuru, Ardijah, Sons of Zion, Tomorrow People, NZ Marley All Stars, House of Shem, Kora, and Common Kings.
Road closures will also take place over Saturday January 27 and Sunday January 28 from 9am - 12am, to ensure safe access to the event.
Closures include Cameron Road from Brown Street to McLean Street; Park Street from Cameron Road to Willow Street; Monmouth Street from Cameron Road to Willow Street; and McLean Street from Cameron Road to Willow Street
Resident access will be maintained throughout the event and people in the CBD should expect increased foot traffic.
Jetsprinting
The 2018 ENZED Jetsprint Stadium Cup event is back in town again where more than 30 jetsprint racing teams will rush around ASB Baypark Arena.
Local teams include Rusti 1, driven by Aaron Hansen and navigated by Julie-Anne Shanks, and NZ Riverjet, Nick Berryman and Tanya Iremonger, who came third in the second meeting of this season.
For more information, including ticketing, visit: www.jetsprintbop.com or: www.eventfinda.co.nz or call 0800-BUYTIX.
Saturday 27 January
A Meditation On Beach
Meaningful Life. Join a mindfulness meditation group at Tay Street beach between 7-8am. Enjoy fresh air, peace and beauty. Instruction given. Koha appreciated.
---
ART IN THE PARK
Coronation Park - Mt Maunganui - Art for Sale - weather permitting 9am-4pm Tauranga Society of Artists Inc
---
AT GREERTON HALL MARKET
8am - 12pm. Crafts, plants, produce, bric-a-brac. Stalls inside/outside. Phone/txt for site. Tricia 07 543 1487 or 027 908 2952 greertonmarket@actrix.co.nz, www.facebook.com/greertonhallmarket
---
At Zee Market
We have an awesome range of crafts, artisan, plants & food. Pop into 169 Elizabeth St TODAY & check out some amazing products 10am-2pm.
---
Balmoral Kilties Marching Team
We welcome ladies to join our fabulous sport. Ages 30-60. No experience required. Ph Anita 07 578 8996 or 0210 257 6094 evenings
---
FAST4 Tennis
Cooper Tyres Waihi Beach Invitational high ranked FAST4 Tennis Tournament. Waihi Beach Tennis Courts, Seaview Rd. 9am start. Free admission. Food & drinks available. Great entertainment.
---
Film Night
HOW TO TRAIN YOUR DRAGON +6:30pm for the whole family. Free Entry at 53 Te Okuroa Drive Papamoa. Call Julie 0274 205 375 or visit: http://www.communityofstaidan.com/
---
LOL Laughter Wellness
Keep well on LAUGHTER - the best medicine ever. 11:00-11:45am Arataki Community Centre, Zambuk Way, Mt Maunganui. Koha. Ph Trish 022 036 6768 Email lollaughterwellness@gmail.com
---
LOL Laughter Wellness
Discover the joy & health benefits of hearty laughter. 11:00-11:45am Arataki Community Centre, Zambuk Way, Mt Maunganui. Koha. Ph Trish 022 036 6768 Email lollaughterwellness@gmail.com
---
Rusty Mannequin Clothing Sale
Women's pre-loved clothing sale. $5-$10, cash only. Historic Village, 17th Ave, Tauranga. 9am-12pm. All proceeds to Turning Point Trust.
---
Sport BOP Bike Month
From group rides and bike maintenance to mountain biking, there's something for everyone in our Bike Month calendars. Plus prizes to be won! www.sportbop.co.nz/bike-month
---
Tauranga Rotary Easter Booksale
Please donate books, records, Cds, Dvds, Jigsaws & Sheet music for next Rotary Charity Book sale. Ph Anne 543 5350 or Ross 544 0817
---
Te Puke Menz Shed
Mondays, Wednesdays & Saturdays @ 9am at 86B No. 3 Road Te Puke. New members welcome. Ph 573 8655 or 573 6779
---
The Way Messianic Meeting
We are a community group that teaches & practices 'One New Man' principles. All ages welcome. 10am, Hillier Ctr, Mt Maunganui. Ph 021 0226 3515
---
WANTED Books/CDs/DVDs/Puzzles
For Mount Lions & Lioness Clubs Book Fair. Drop-off points or collection ph Pip 543 2175 or Stella 575 0685 or text details to 021 033 0795