Residents around the city can expect things to get a little busier this long weekend, as the region sets up for an impressive timetable of events.
One of the more exciting events happening around the city is one of Tauranga's biggest music festivals, One Love, which will be held over two days at Tauranga Domain.
"Road closures will be in place over both days on Saturday January 27 and Sunday January 28 from 9am - 12am, to ensure safe access to the event," says Tauranga City Council.
Closures include Cameron Road from Brown Street to McLean Street; Park Street from Cameron Road to Willow Street; Monmouth Street from Cameron Road to Willow Street; and McLean Street from Cameron Road to Willow Street.
"Resident access will be maintained throughout the event and people in the CBD should expect increased foot traffic."
The One Love Festival will also provide music that will be audible beyond the venue.
"For this reason the hours of operation are restricted to 10.30pm on Saturday, January 27 and 10pm on Sunday, January 28.
"A Noise Management Plan has been submitted and approved to Tauranga City Council as part of the resource consent process. As part of this a robust monitoring process has been put in place to monitor noise levels throughout the event.
"One Love Festival's consent permits amplified noise from 12pm – 10.30pm on Saturday and 12pm – 10pm on Sunday. In addition there will also be daily sound checks from 10am – 11am."
Full details about the event including hourly noise monitoring updates are available on the One Love website.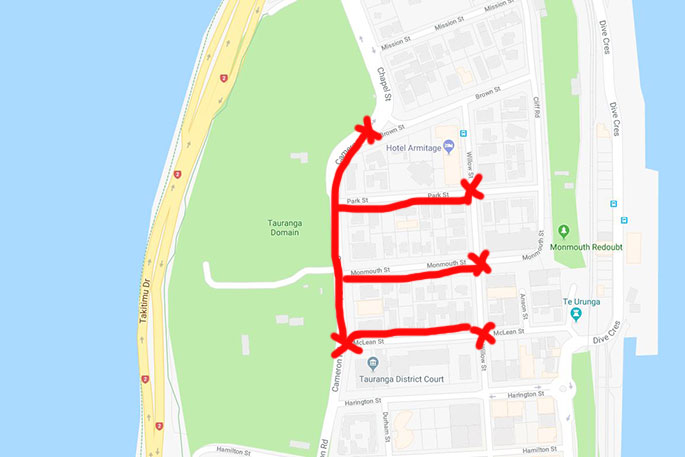 One Love Street closures. Photo: GoogleMaps.Another event that's set to make some noise is the Enzed 2018 Jetsprints Stadium Cup which is on at ASB Baypark Arena on Saturday January 27 from 5pm-10pm. Traffic around the area is expected to get heavy.
In Mount Maunganui the Billabong Grom Series will be taking place at Tay Street from 8am until late afternoon on Saturday and Sunday.
The event will see the best surfers under the age of 20 competing for some of the sports top titles and motorists can expect heavy foot and vehicle traffic in the area.
Another sporting event set to pack out the region is the highly anticipated Blackcaps vs Pakistan match at Bay Oval on Sunday.
The match is expected to bring in cricket fans from around the region and beyond. It runs from 7pm-10pm and motorists can expect some delays prior to and following the match.