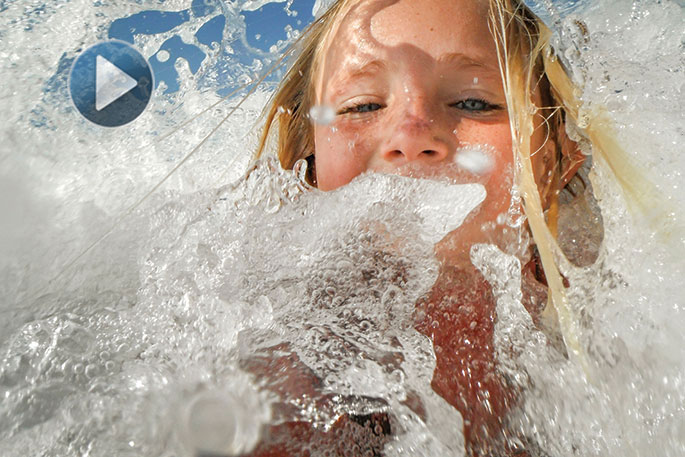 Click the image above to watch the video
Nine-year-old Lulu Boorman has been named as supreme winner of the 2018 Trustpower Photographic Exhibition.
Lulu ousted more than 2090 entries judges to claim more than $3400 in prizes in the second year of the region's largest outdoor photographic exhibition.
This evening's prize giving saw the announcement of the top 20 finalists who share in the more than $10,000 prize pool with category winners across the four themes of the exhibition; Our people, Celebration, Nature & Landscapes and Digital Manipulation.
The supreme prize includes a trip and five night's accommodation to London, Paris, New York or Rome, worth $3000, from House of Travel Downtown Tauranga and Downtown Tauranga.
Winning photos will also be sent to Hitachi, Japan to appear in a photographic display to celebrate the 30th anniversary of the sister city relationship.
Project Manager Sally Cooke says it's exciting to see the exhibition opening for a second year.
"We launched this initiative two years ago for three very clear reasons. We wanted to showcase the Bay in a visually dynamic large scale outdoor exhibition, we wanted to create an attraction in the city centre for locals, visitors and tourists to enjoy and we wanted to showcase and nurture the established and emerging creative talent we have in abundance here in the Bay. It's such an exciting and enriching initiative for everyone who is involved."
The winning photo, a selfie by Lulu Boorman, was also awarded first prize in the Young Photographers section. Lulu says she captured the photo on an old family camera. "I love living in Papamoa and running down the sand dunes with my family to the beach and diving into the waves.
"We have a small camera, it's old but I like it because it's waterproof and fun to use. Holding my little camera and trying to take photos while waves crash into me is hard! I took lots of photos as I ran into the water," says Sally.
"This one is my favourite because I was laughing my head off. The bubbles look like a smile on my face."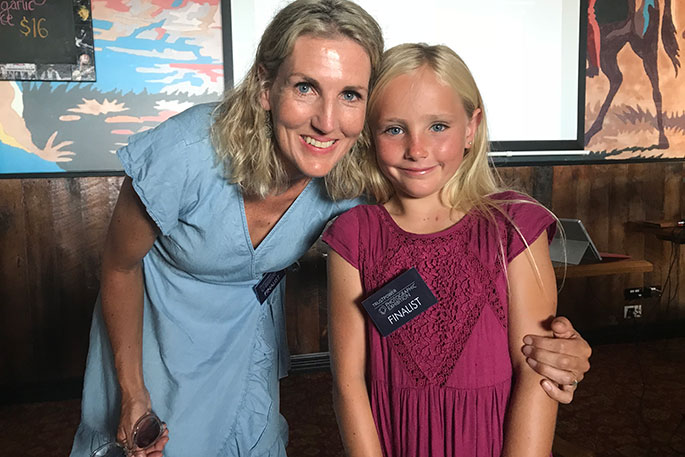 Finalist Brydie Thompson and supreme winner Lulu Boorman, 9.
Project Manager Sally Cooke says the judges had another challenging task this year.
"We had over 1700 entries in our first year and this year we topped the 2000 mark which is absolutely fantastic but presents such a challenge for the judges to select the top 20 finalists and the ultimate winners of the exhibition."
This year's judging panel comprised Carolyn Schofield from Trustpower, Jenny Rudd from UNO. Magazine, Belinda Francis from Media Works, Cr Larry Baldock from Tauranga City Council, Karl Chitham from Tauranga Art Gallery, Anton Steel from Bay of Plenty Film, Millie Newitt from Downtown Tauranga and Lena Kovac from Creative Bay of Plenty.
Trustpower's Marketing Communications and Programme Manager, Carolyn Schofield, says the calibre and diversity this year was impressive.
"The Trustpower Photographic Exhibition creates a fantastic opportunity for our community to come together to create an amazing exhibition.
"The fact that anyone can enter and that the exhibition features the work of both amateur and professional photographers of a wide range of ages makes it a very special event.
"This year, the inclusion of a digital photography category has enabled people to enter a diverse range of images. This category had particular appeal to young people and it was great to see them being able to showcase their skills in combining photography and technology."
Lulu's winning large-scale image, sponsored by Priority One, features alongside the other 19 finalists in the Bay's largest outdoor exhibition which opens tonight on The Strand and acts as a showcase of our creative talent and the region.
Priority One Communications/Projects Manager Annie Hill says the exhibition is a fabulous opportunity to showcase the talented photographers in the Bay as well as our stunning scenery.
"It's great to see so many amateur photographers recognised in the top 20 and for the supreme winner to be awarded to someone so young."
Sally Cooke says the exhibition captures such diversity.
"We hope the exhibition brings joy to many again this year. To see photos from amateurs and budding enthusiasts alongside professional photographers is so enriching, it's what it's all about.
"I wish we could showcase all the images. We have the top 20 on display and yet across the more than 2000 photos entered there are so many incredible shots.
"We will create a digital library of all the images again this year so that there are opportunities for all the entrants to potential secure work or even sell their images.
"It would be great if some of the images were purchased for use in a tourism campaign for our region. The opportunities off the back of this exhibition are potentially immense."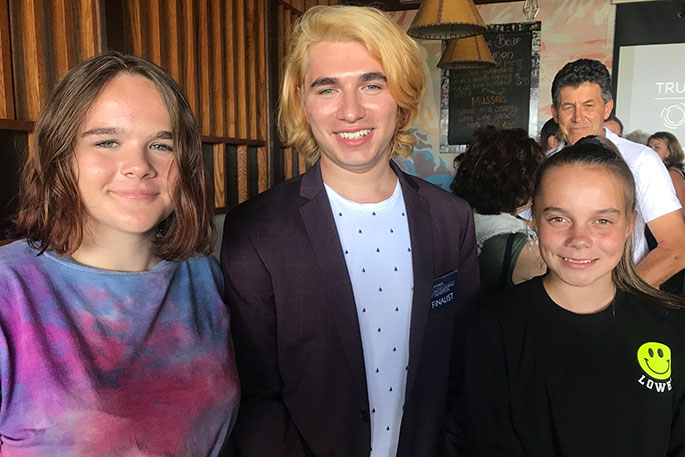 Charlotte Gilmour with finalist Flynn Macredie and his sister Cal Macredie.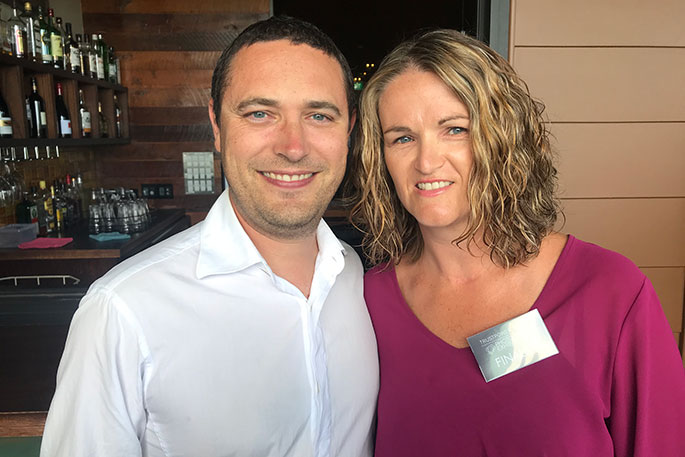 Finalist Rose Minnée (right) with her husband Jonathan.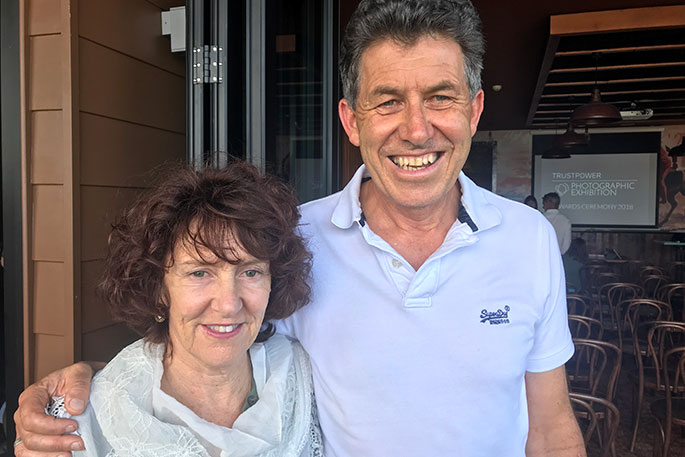 Margie Taylor and finalist Chris Taylor.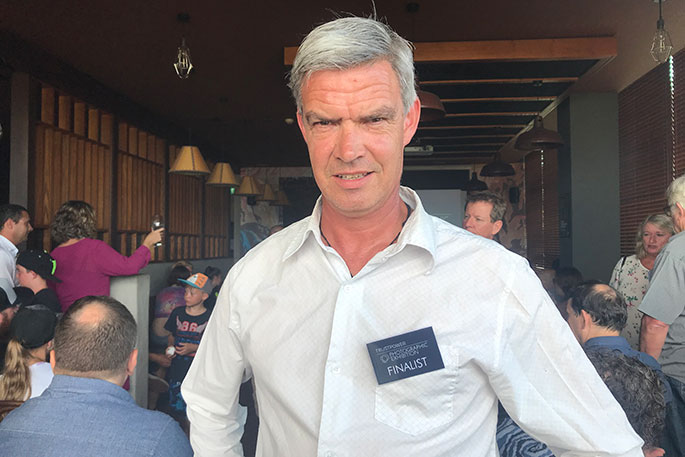 Andrew Warner finalist.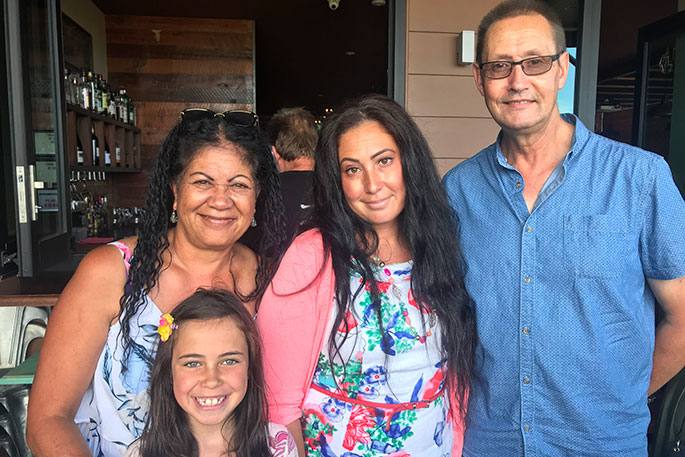 Finalist Leah Nesbit (centre) with daughter Giovanna Bowring, Karen Thomas and Colin Birch.
This year's full list of winners is:
Supreme Winner
Photographer: Lulu Boorman Photo Caption: 'Splash'
Our People category
1st Place – Photographer: Brydie Thompson Photo Caption: 'Lifeguard Sid'
2nd Place – Photographer: Karlie Morrow Photo Caption: 'Reluctant Birthday Portrait'
Digital Manipulation category
1st Place – Photographer: Jared Dobbs Photo Caption: 'Char In A Fijian Mat'
2nd Place – Photographer: Flynn Macredie Photo Caption: 'Dream On And Reach For The Stars'
Nature & Landscapes category
1st Place – Photographer: Karl Tretheway Photo Caption: 'Wicked Skies At Motuotau Island'
2nd Place – Photographer: Kerry Maclean Photo Caption: 'White Faced Heron Fishing For Crabs'
Celebration category
1st Place – Photographer: Andrew Warner Photo Caption: 'The 100th Kiss'
2nd Place – Photographer: Nigel Watts Photo Caption: 'A Colourful Life'
Young Photographer category
1st Place – Photographer: Lulu Boorman Photo Caption: 'Splash'
2nd Place - Photographer: Ellie Thompson Photo Caption: 'Beach Flags'
Highly Commended Entries:
Zach Rayner, Mike Wheelton, Flynn Macredie, Andrew Warner, Rose Minnee, Brydie Thompson, Hamish Mathieson, Chris Taylor, Leah Nesbit and Steve Clancy.
The exhibition is run as a partnership initiative with Trustpower, Downtown Tauranga, Media Works, UNO. Magazine and Weekend Sun and runs until March 25th on The Strand as a free community event. For more details go to www.downtowntauranga.co.nz