UPDATED 7.26AM: A man has been arrested after two police cars were rammed in central Tauranga this morning.
2nd Ave, between Cameron Road and Devonport Road, is blocked following a pursuit.
A police spokesperson says police were called to an address on 2nd Ave following reports of a family harm incident at 6.13am.
"A man has driven off, failed to stop for police and a short pursuit was initiated.
"The driver has then crashed into two police cars on 2nd Ave. Thankfully, no one was injured."
The vehicles involved were severely damaged.
Nikki Pridgeon, an eye witness, says the sound of the commotion woke her early this morning.
"It sounded like something out of a movie scene. You don't expect to hear something like that at 6.20 in the morning.
"The driver came up from Cameron Road, down 2nd Avenue with police cars chasing him.
"In the middle of Elizabeth Street he did about three donut circles and then spun back down and crashed into the back of a police car while trying to drive into a Bidvest truck.
"About 15 policemen swarmed his vehicle telling him to get out of the vehicle then they threw him in the back of the police van. They have been investigating ever since."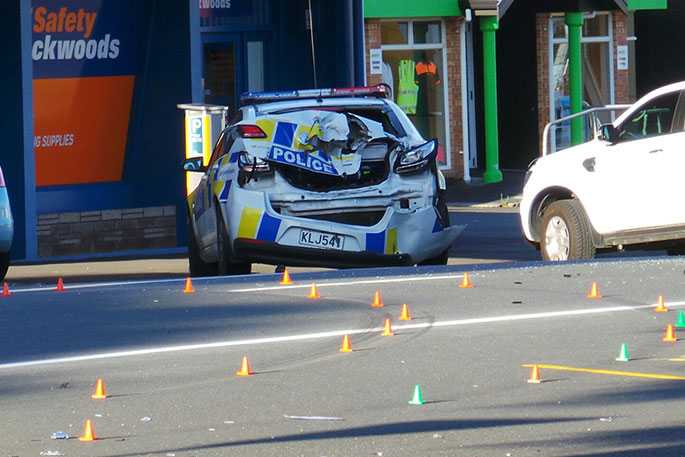 EARLIER:
Reports are coming in of a crash involving a ute and two police cars.
A SunLive reader says it looks like a police car has been rammed on 2nd Ave.
"There is police everywhere.
"It was right outside medical centre. Looks like a ute has hit two police cars.
"All cordoned off and doing there investigation now."
It's understood there are cordons in place on the corner of Cameron Road and 2nd Ave and Devonport Road and 1st Ave.
Motorists who travel in this area are advised to use an alternative route or expect delays.
SunLive has contacted police for more information.
As soon as we have something more, we will update this story.
At the scene?
Call 0800 SUNLIVE or email photos to newsroom@thesun.co.nz