UPDATED 11.53AM: One person is dead after a tree fell on a car in the Bay of Plenty.
At about 10.45am emergency services were called to Arawa Street, Rotorua, near Amohia Street, following reports a tree had come down on a car and building.
"It has been established that the sole occupant of the car has died and emergency services are working to remove her from the vehicle," says police.
"Arawa Street has been closed and diversions are being put in place while emergency services respond to the incident.
"Police have also checked on staff working in the building on Arawa Street which was hit by the tree and they are all okay."
As well as this incident, two trees have come down on Long Mile Road, Rotorua, and one has fallen onto a car.
No one was in the vehicle. A tree has also come down across Sala Street, Rotorua.
"Both roads are completely blocked and traffic management is in place. Police ask that people stay away from this forest area.
"Bay of Plenty Police ask that people avoid all unnecessary travel and take extreme care if out and about during these weather conditions.
"We also ask that people avoid low lying roads and coastal areas across Bay of Plenty as water levels are high, making conditions extremely dangerous."
EARLIER:
One person is trapped in a car in the Bay of Plenty after a tree came down on the vehicle.
The large tree fell across the intersection of Arawa and Amohia streets in Rotorua this morning.
It is a large tree that has blocked the main entrance to the hospital, says a caller to SunLive.
Police confirmed that the person is trapped.
Meanwhile in Tauranga, emergency services are stretched as the onshore winds and the high tide see flooding at low lying roads around the city.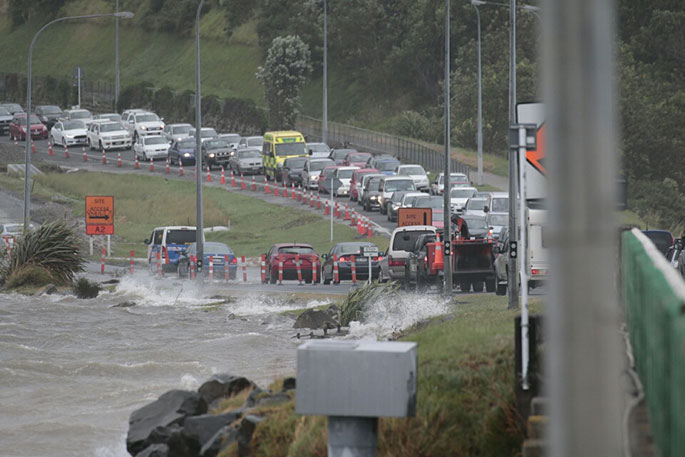 Water making its way across Turret Road/Hairini Causeway. Photos: Bruce Barnard.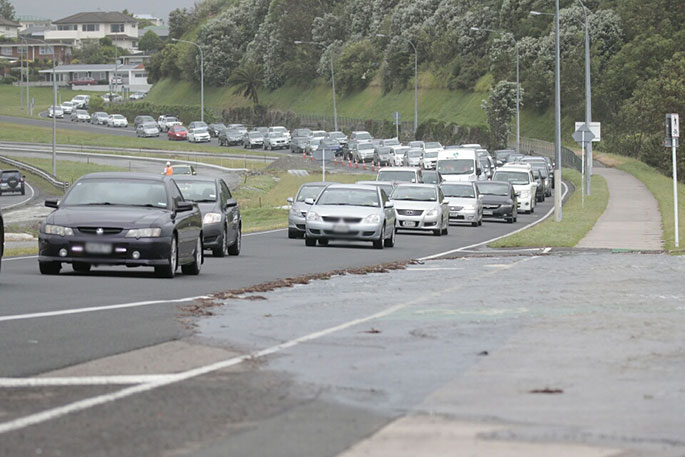 Affected roads are Turret Road and the bridge across to Hairini. Police have closed Te Puna Station Road alongside the Wairoa River.
Fire fighters are also responding to reports of flooding at Matahui Road at Te Puna.
Commons Avenue residents in Mount Maunganui are using sandbags to prevent flooding of basements.
It is the first flooding since the Tauranga City Council repaired the stormwater drains about three years ago, says one resident.
Houses near the summit on Waihi Road are without power after a tree was blown across power lines.
Firefighters are also investigating reports of a tree on fire in Bellevue Road after power lines were blown down.
Mount Maunganui Lifeguard Service has posted video of waves breaking between the Main Beach and Leisure Island.