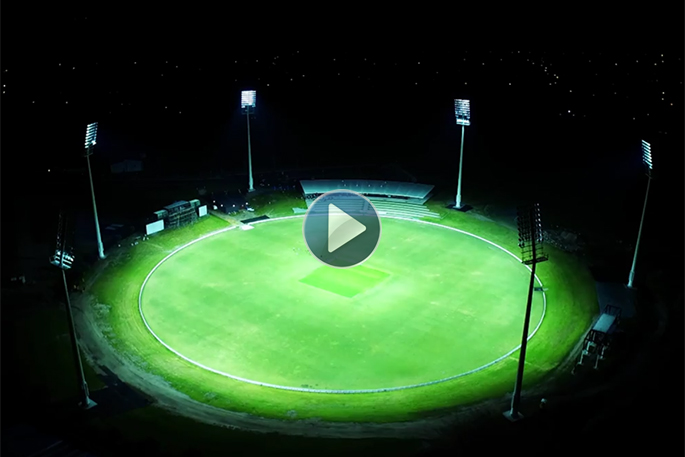 Click the image above to watch the video
The Bay Oval's light towers will be flicked on for the first time Saturday night – and the occasion's being hailed as one of the great moments in more than eighty years of Bay of Plenty cricket history.
The $2 million dollar floodlights will go on for the Burger King Super Smash clash between the Knights and the Aces, starting at 7pm.
It's the latest stage in Bay of Plenty Cricket's plan to develop Blake Park into a purpose-built first class cricket ground.
It was planned the Bay Oval Development would have a "village green" atmosphere where up to ten thousand spectators, would be able to watch all three forms of the game – test, ODI and T20.
The first big step was the $2 million pavilion, which was opened in January 2014. Cricket under lights, was the third development after achieving international ground status.
The CEO of Bay of Plenty Cricket, Chris Rapson, says the floodlighting at Bay Oval adds another dimension to live sport in the Bay.
"Our best players deserve the best conditions to play in and our spectators deserve to witness the best performances, after all they're paying for the privilege."
The Bay Oval is the first cricket venue in the world to make use of LED technology. And Chris says everyone will be impressed with the quality of the lights, a new replay screen and enhanced spectator facilities.
Sixteen games will be played under lights at the Bay Oval this summer.
The first will be the Burger King Super Smash Twenty 20 on Saturday evening and concluding when the White Ferns play West Indies in a T20 match mid-March.
There will also be international Cricket at Bay Oval on December 19 and 21 when the New Zealand and Zimbabwe teams play two warm-up matches before the Under 19 Cricket World Cup in New Zealand next year.
All the best age-group players in the world, will be in the country for the Under 19 Cricket World Cup, with the Bay Oval showcasing six round robin games. A world-wide television audience of millions is will watch the Under 19 final at Blake Oval on February 3.
The Black Caps will play the West Indies in two T20 matches on January 1 and 3.
Pakistan and England, will also play the Black Caps at the Bay Oval during 2018. The Black Caps will play Pakistan on January 28. However the biggest game of season will be on February 28 when the Black Caps play England.
The game's expected to sell out.