Around 250 people of all ages united their voices at Baycourt on Sunday afternoon as part of the city's inaugural 'Sing! Sing! Sing!' event.
The community initiative – a collaboration between Downtown Tauranga and the Mauao Performing Arts Centre – seeks to support suicide prevention through song.
A $5 door charge for adults enabled $1050 to be raised for the Life Matters Suicide Prevention Trust, with people arriving at Baycourt just before 4pm.
Those who took part were divided into sections to learn their respective parts of the popular Leonard Cohen song, 'Hallelujah', under the guidance of music tutor and teacher Emily Macklow.
At 5pm the surprise lead vocalist Ria Hall joined the choir and continued practising with them, before three renditions of the song were performed and professionally recorded by BOP Film.
Downtown Tauranga's Sally Cooke says 'everyone loved it'.
"It all came together beautifully, thanks to Emily's amazing training."
She says she and Emily have already been discussing the next 'Sing! Sing! Sing!' event, aiming to have it again early next year.
"We want to have three or four a year with a different song and lead singer. The ethos is not only about raising money for a good cause, but also bringing people together through music. So we'd like it to move around the Bay of Plenty as well."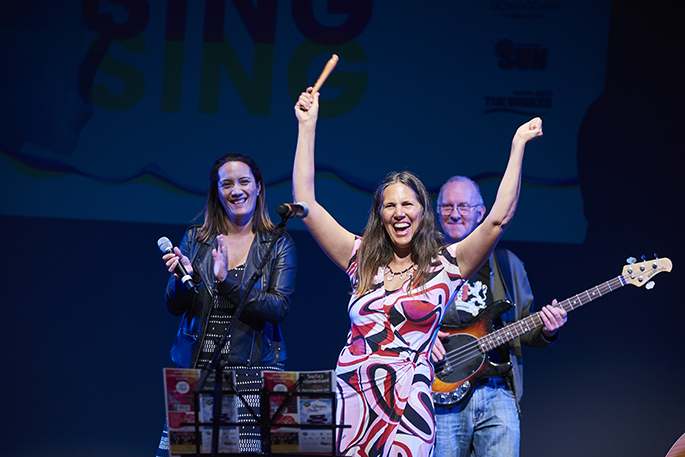 Emily Macklow conducting the choir.