A mysterious note left on a popular wooden seat has alerted Mount Maunganui locals to the Tauranga City Council's plan to get rid of it.
The letter, which was left on the driftwood bench between Sutherland and Grove Ave, said that the council plan on moving the seat and advised the owner to move the seat themselves.
A local resident found the note while she was out on a walk with her kids and posted the photos in the Mount Maunganui Facebook group.
Since then many locals have commented on the post and say they are sad to see it go, with some even considering starting up a petition.
"My family has really enjoyed this and many others it now seems. It is a shame it has to go," says one resident.
"On no why do they want to remove it? It's not harming anybody, it's made of wood, whch was collected at the beach in front and is a nice and calming place. It totally fits there," says another local.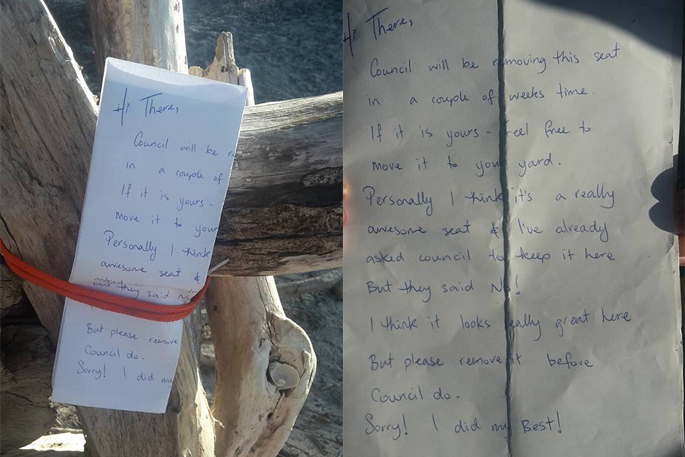 A Tauranga City Council spokesperson says they have been working really hard to restore the dunes at all of the beaches back to their natural state, which includes removing structures and encroachments.
"The dunes are a conservation area. Any structures there requires a resource consent, as going through the process would mitigate any negative environmental impacts."
It is not yet known who exactly made the seat, but a resident says they know the person and will organise for someone to collect it this weekend.