A temporary pathway around a slip on Mauao will open late this afternoon, restoring the base track walk around the Mount in time for the weekend.
The popular base track walk has been closed since April when heavy rains, associated with ex-cyclone Debbie, took away a 14 metre section of track.
The temporary solution involves several sets of steps, which are not suitable for prams, strollers and wheelchairs, and will take walkers up the hill above the slip site.
The steps are two metres wide and designed to be easy to walk, with handrails at the most challenging points.
"We're really pleased that people will be able to complete the base track loop again. We know Mauao is of huge importance to the people of Tauranga and we really appreciate how patient and supportive the community has been as we worked through quite a complex process to get to this point," says Parks and Recreation manager Mark Smith.
The temporary steps are designed to be easily removable and have minimal impact on the ground, which is important as there's a significant archaeological site in the area.
"They'll remain in place until a long-term, sustainable solution is complete. The long-term solution will be accessible and provide a new experience for walkers."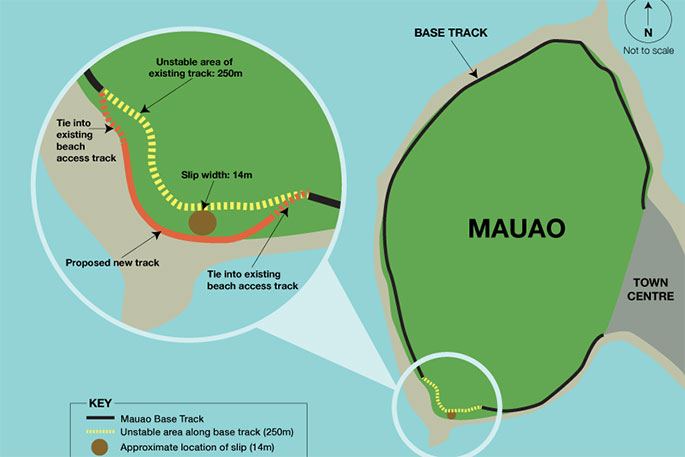 The longer term solution to bypass the slip. Photo: Supplied.
Tauranga City Council approved $2.2m to bypass the slip section last month.
"We appreciate this is a lot of money, however the more we looked into the slip, the more it became apparent that there is a stretch of about 250m of track which is built on a relic slip," says Mark.
"Generally, if an area has slipped before it will slip again – it's just a matter of when. There's already a second, smaller slip just east of the large one.
"If we repair just the 14 metre section that's damaged right now, we'll be paying for repairs every time there's another slip in the area. We would also have to reshape part of the mountain, potentially more than once."
Council also resolved to ask the Mauao joint administration board, Nga Poutiri o Mauao, to investigate options for alternative funding such as donations for future maintenance of the mountain.
The new track will run along the beach, at three metres above sea level. It will offer visitors easier access to the water, and a view of the water and the statue of Tangaroa.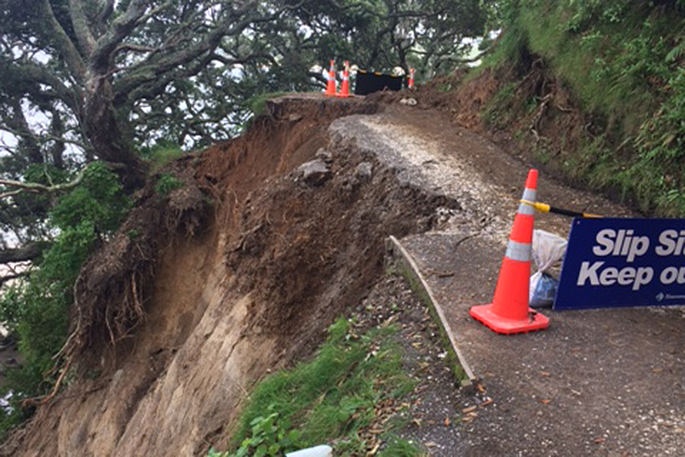 The April slip undermined a 14 metres section of the base track. Photo: Supplied.