The opening of the new bridge on the eastern side of the Maungatapu roundabout marks significant developments in the underpass project.
"Now that the bridge has been opened and traffic is going round the roundabout very nicely, that's basically allowed us now to finish the last little bit that we have to do in the middle of the roundabout," says NZTA project manager John McCarthy.
"We are now in there and starting to put the piling in that space, which will complete the piling on each side of the trench wall and allows us then to put the trench wall fully into place and complete the full excavation right through there. So hopefully by this summer we should be able to see through that gap."
The Kaitemako culvert is also completed and NZTA is liaising with hapu to arrange karakia on site before the stream is rediverted.
"We're looking to do karakia this Friday morning then the stream diversion take place next week," says John.
"They have to pull all the sheet piling out of the way. It's not just a simple turn the tap on kind of thing.
"It will be something that happens through the course of next week depending on the weather, and the ability to get the machines in that will pull the sheet piles out."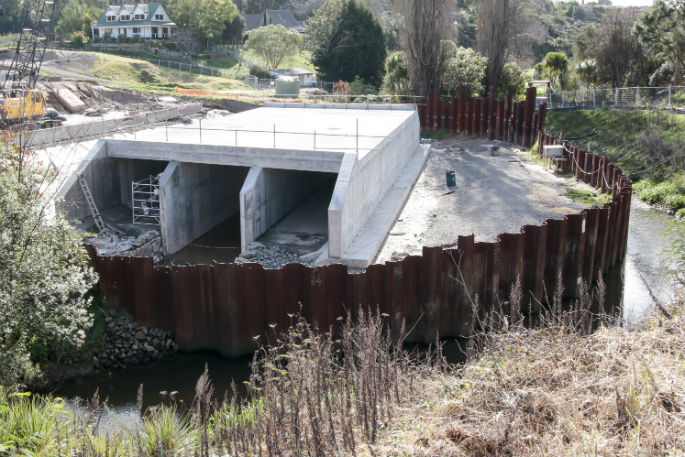 Sheet piling is beginning to be removed next week, weather permitting.Photo: Bruce Barnard.

With the culvert completed the focus has moved to rock protection work up and down stream of the culvert.
The concrete floor of the culvert has been roughened with cobbles and small stones, to helps fish to swim upstream through the culvert.
The culvert is also designed to withstand 100-year flood events and provide access to Welcome Bay in the event of a major earthquake.
As well as removing sheet piles, backfilling and preloading the temporary stream diversion, the remaining to do list includes the demolition of the old scout hall.