The stalled title process for the Dive Crescent land is underway again with the city council expected to approve a joint council/Maori ownership bid for land.
The land has remained in limbo since the 1989 local government changes.
That was when the reclaimed strip of land on the harbour side of Dive Crescent reverted to Crown ownership when the former owner, the Bay of Plenty Harbour Board, was dissolved.
The council's City Transformation Committee is expected to recommend the re-establishment of the Dive Crescent Governance Group to plan for and manage the seaward land in partnership with the Otamataha Trust this week.
The re-development of what the council sees as a key waterfront area and a gateway to the CBD is stalled over the ownership process. The governance group was first established in 2010. In 2012 it put in a joint ownership allocation for the land to Land Information New Zealand, and dissolved following the 2013 elections.
The application remains stalled by LINZ, specifically the valuation process – how much will have to be paid to the government for the return of the reclaimed land.
Agenda reports state LINZ doesn't dispute the joint ownership proposal. The process stalled over the valuation, which was done under LINZ guidelines.
Council staff and Trust representatives met with LINZ on April 12, 2017, to discuss how the joint application can be resolved.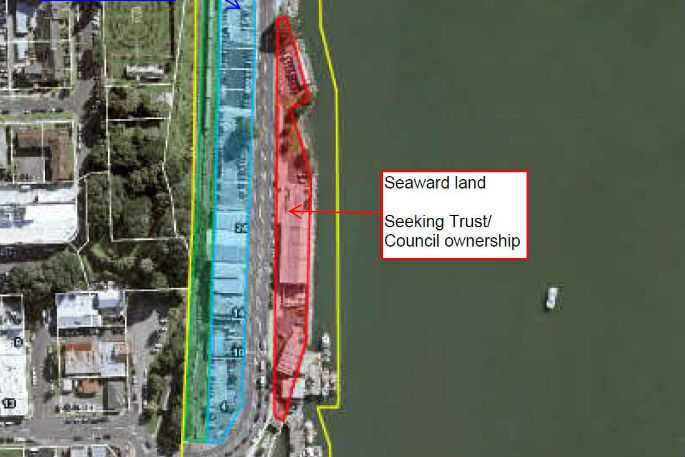 The Dive Crescent land. Photo: Supplied.
The LINZ Group Manager of Crown Property has the delegation to sell Crown land provided that the value is justified by independent valuation and any discounting factors that can be applied in line with the Marine and Coastal Area (Takutai Moana) Act 2011. Any negotiation in terms of sale price that cannot be justified via valuation or the coastal marine Act has to go to the Minister for Land Information for approval.
While Council and the Trust finalise negotiations over the title and ownership of the seaward land, only short-term bookings are being considered for the use of the Cargo Shed - a minimum of one day, maximum of one month.
Lease information for other assets at Dive Crescent, including Maui Ocean Products, the fish and chip shop and wharf, remain confidential.