Confusion over New Talisman Gold Mines' activity in the old Karangahake gold mine has been addressed by a press release from the Hauraki District council this week.
Talisman's recent acquisition of a prospecting licence received a hostile reception from the local anti-mining lobby.
Prospecting is not mining, says Hauraki District Council CEO Langley Cavers, adding a prospecting certificate of compliance can be issued by the district council.
Talisman is beginning prospecting in the old mine workings at Karangahake.
The certificate also covers associated activities on the portal pad such as the construction of office facilities. This work is separate to the bulk sampling and exploratory underground drilling the company received resource consent for in 2013, but has not yet carried out.
"It's really to clarify a bit of confusion. Council some time ago issue a consent for bulk sampling within the mine," says Langley.
"We have been contacted about this operation just to allow them to go in and prospect. There was an inference by some that it was the same operation.
"The press release is just to clarify this is a separate thing. It's not for mining or bulk sampling or anything like that. It's for prospecting."
The company will install a few portacoms on the portal flat outside the mine and about five staff will be involved in going into the mine and taking samples.
The certificate of compliance is issued only after a thorough assessment by Council's planning team and a peer review.
"It was agreed by all parties that the proposed work was a permitted activity, which means it complies with the rules in the Council's District Plan and can be lawfully carried out without a resource consent," says Langley.
He acknowledges the prospecting work may lead to further applications, but clarifies the company does not currently have consent to mine there or anywhere else on Mount Karangahake.
"We understand how people might be feeling about this proposal. The Karangahake Gorge is a national attraction and one of our most valued assets. If actual mining were ever to take place it would only be following a robust resource consent process as prescribed by the Resource Management Act," says Langley.
This part of the Karangahake Gorge encompassing the old mine is zoned Conservation (Indigenous Forest) in the Council's District Plan in recognition of its importance in terms of indigenous forest cover and its high significance as a wildlife habitat as well as its scenic, scientific and recreational value.
There are special rules in place for the District's Conservation Zones and all activities undertaken in these areas are subject to these rules.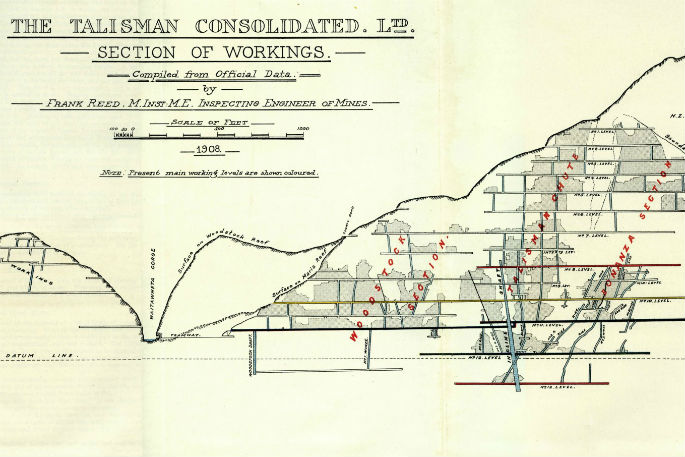 A map of the mine workings to be prospected