Rock oysters, delicious sea food dishes and white-clothed tables laden with platters of phenomenal food greeted visitors to Tawhitinui Marae at Whakamārama at noon today.

And as you ate, four-part harmony resonated around the hall spilling out onto the marae grounds to the nearby marquee, which was also full of people munching down on the excellent meal.

This hākari, or ceremonial feast, demonstrates the great hospitality and mana that is such a major part of the people and marae.

As part of the Te Weranga, or Tauranga Bush Campaign, local hapū have held commemorative events since January to mark 150 years since local villages came under attack.

These commemorative events include the erection of memorial pou at Taumata, Te Irihanga and today at Whakamarama.

Earlier the public gathered with local Māori to dedicate a memorial pou at Puketoki Reserve in Whakamārama. Shuttle vans operated from the marae to the reserve ensuring traffic was well-managed.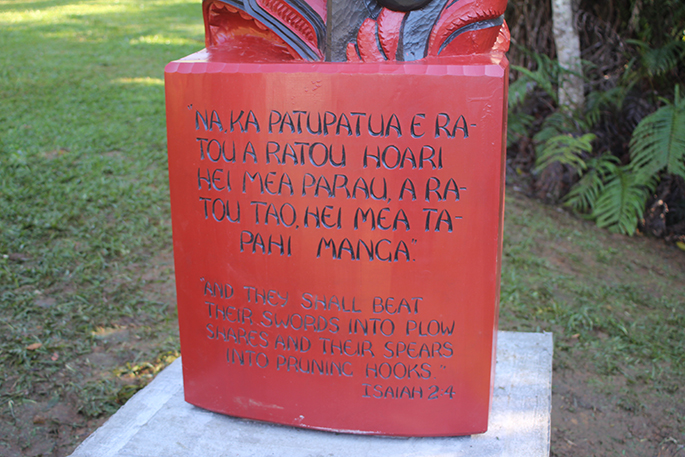 The inscription at the base of the memorial pou erected at Puketoki Reserve in Whakamārama.

Speakers included Western Bay of Plenty Council Mayor Garry Webber, MP Te Ururoa Flavell, Patrick Nicholas, and Graham Cameron. Also attending the commemoration were Tauranga City Councillors Larry Baldock and Terry Molloy and Deputy Mayor Kelvin Clout.

"It is with mixed emotions that I stand here today," says Garry. "Privileged that you have invited us to be with you to commemorate the events of 150 years ago. Apologetic for the actions of some of our forefathers that triggered the battle we commemorate today.

"But most importantly, hopeful that we can move forward and collectively work hard to make our communities more cohesive, considerate, inclusive and able to respect our differences.

"We, as a nation, have been able to forgive our aggressors from both the first and second world wars and I pray that we can find in our heart of hearts the ability to forgive those who took part in those terrible events of 150 years ago."

After the dedication ceremony, hot cross buns, scones and tea and coffee were served at the reserve. Everyone left for the Marae where the story of Te Weranga was told prior to the Hākari at noon.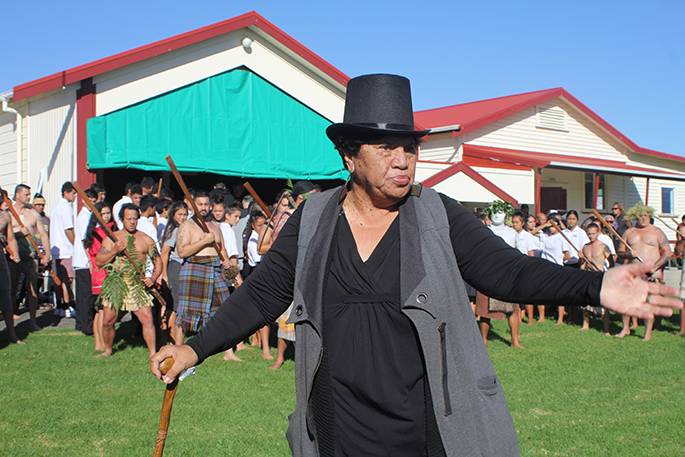 Mabel Wharekawa-Burt during today's commemorative event at Tawhitinui Marae in Whakamārama.