Update 5.18pm: Police have confirmed a driver will be charged with dangerous driving after using vice grips as a steering wheel following a crash on Pyes Pa Rd this afternoon.
Tauranga Police Sergeant Wayne Hunter says the driver charged was using the grips to steer the vehicle at the time of the crash.
Update 4.31pm: Traffic is down to one lane after a crash on Pyes Pa Rd involving two cars.
A witness at the scene says the driver rear ended a vehicle slowing for stop-go traffic control working in the area at the time.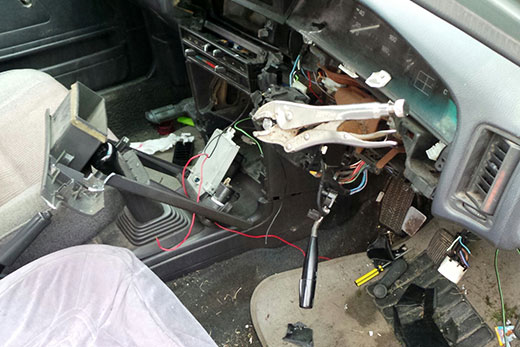 The vice grips used as a steering wheel.

A SunLive reporter at the scene says there are no serious injuries although one driver has been treated by Ambulance staff and taken to hospital.
Traffic is backed up and motorists are being asked to be patient and to take their time.
Earlier: Reports are coming in of a three car crash on Pyes Pa Rd (SH36) near Merrick Rd. Emergency services are on the scene.
The crash happened about 4pm, but there are no reports of injuries at this time.
More details as it comes to hand.