A $520 million roading package that will transform State Highway 2 (SH2) between Tauranga and Waihi.
"This is a significant transport investment for Tauranga and the wider Bay of Plenty area," says Transportation Minister Simon Bridges.

State Highway 2 through Te Puna.

The package includes:
• The $286 million Tauranga Northern Link (TNL).

• $85 million worth of safety improvements designed to reduce death and serious injury crashes.

• Up to $150 million to provide for future traffic growth, paving the way for an upgrade between Omokoroa and Te Puna.
"It will improve safety, reduce congestion and support growth on what is a very busy route, making a noticeable difference for motorists and easing freight movement.
"It's yet another example of the Government's focus on increasing economic growth and improving safety through transport investment.
"We know that transport is an enabler of economic activity so we need to continue unlocking key congestion points to get people and freight moving efficiently around the country."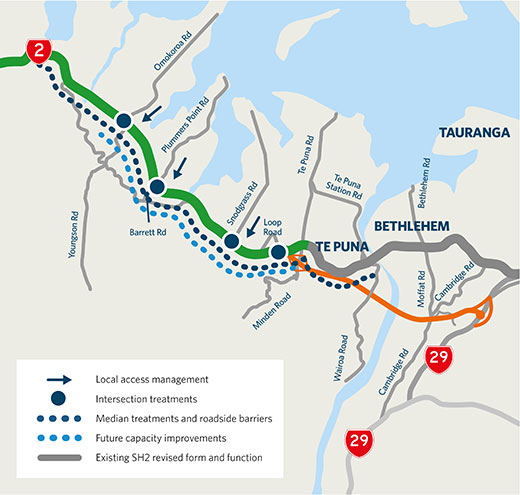 The TNL is a new 6.8 km highway which will connect Tauranga's Takitimu Drive Toll Road with SH2 Te Puna.
"The TNL is a long awaited project in the Tauranga community. Last week I attended a public meeting to hear the views of local people and it's clear there's a lot of support for getting this project underway," says the Tauranga MP.
"Once complete it will reduce traffic through the busy townships of Bethlehem and Te Puna, provide a better commute into the city, and support the Western Bay's many industries.
"Today I'm also announcing that $150 million has been earmarked for a future extension of the TNL. A business case for extending the TNL from Te Puna to Omokoroa is expected to be completed toward the middle of next decade.
"All up this means the TNL will provide a four lane highway linking Tauranga's Takitimu Drive Toll Road with SH2 at Omokoroa."
The safety improvement work will be targeted at high-risk areas on SH2 between Waihi and Te Puna.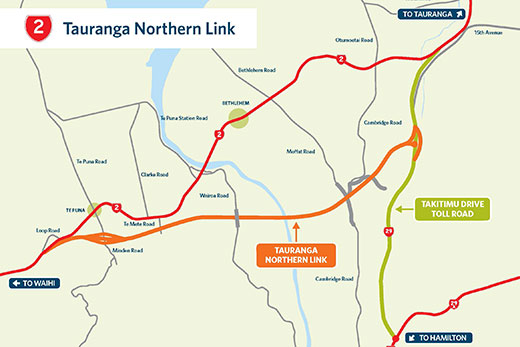 It will include median and side barriers, and intersection improvements designed to reduce head-on and intersection crashes, which are over represented in this area.
"This is a major transport package that will support population growth in areas such as Omokoroa and Te Puna, allowing for any future upgrades to improve capacity as they are needed.
"This latest investment follows a $12 million package of safety works that have been rolled out on SH2 as the Government finalised a long term plan for the route.
"Work on the safety improvements and TNL starts now, with construction set for 2016 and 2018 respectively."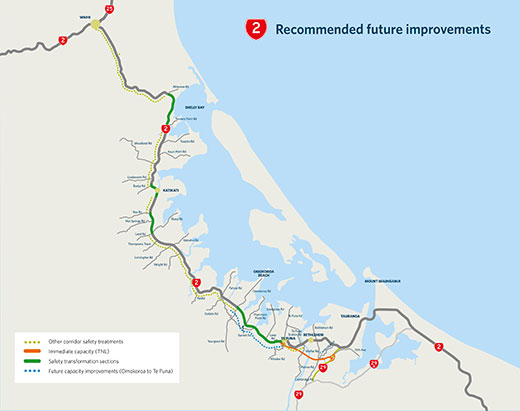 Bay of Plenty MP Todd Muller welcomes the announcement on roading as "a break through investment that will set alight the growth of Western Bay. It's a terrific boost for an already buoyant economy".
"My family have lived in Te Puna for 40 years and in this time we have lived the growing pains and sat in stationary queues as many others have. I for one just can't wait for the building to begin," says Todd.
"A northern bypass has been talked about for years, but under National and under Simon Bridges, Tauranga's MP and Transport Minister, we now have a commitment to build and a sizeable budget to match.
"The half a billion dollar investment is significant and it will lift not only the economic performance of the Western Bay but also the safety of this critical road corridor into the city.
"Roading has been the number one issue brought to me by our community so it is fantastic we are addressing it to this extent," says Todd.
"Last week at our public meeting on roading this view was reinforced by very passionate locals that something needed to be done about the infrastructure in the Western Bay. The population is growing very quickly and the supporting infrastructure needs to keep up.
"This investment in roading will not only serve the community and commuters but it will also support the industries that are based in and around our region.
"The future upgrade between Te Puna and Omokoroa will be especially significant as it is a known problem area for congestion and safety concerns."
Work on the safety improvements will get underway in 2017 while work on the TNL will begin following property purchase, consenting and design.