The 11th Tauranga Half Marathon was won by Ben Ruthe in 1hr11m23s for the men and Esther Keown in 1hr20m39s for the women.
For the men Kyle McDonald came second and Ryan Stacey third. Second and third for the women were Sarah Murphy and Nancy Jiang. Esther, Sarah and Nancy were 6th, 12th and 15th in the overall rankings.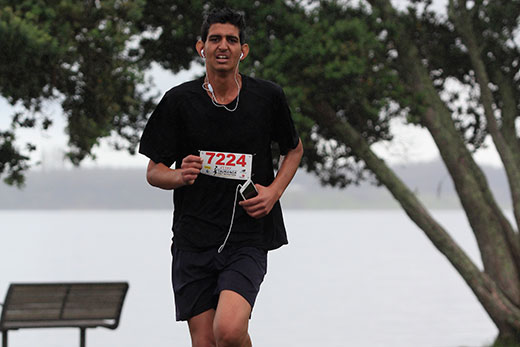 Chris Myland and Morgan Ball won the 14 km stretch, while Matthijs Wetzels and Claire Chapman took care of the 7km run.
Blaze Miller and Millie Tisch took care of the Matua Mile.
The average time for the Half Marathon as 02:03:11, for the 14 km this was 01:40:07, while the 7km average was 00:55:02. For the Matua Mile this was 00:11:57.
Tauranga Half Marathon Results are as follows:
Half Marathon:
Men: 1 BEN RUTHE - 01:11:23, 2 KYLE MACDONALD - 01:12:09, 3 RYAN STACEY - 01:17:35
Women: 1 ESTHER KEOWN - 01:20:39 (6th overall), 2 SARAH MURPHY - 01:25:01 (12th overall), 3 NANCY JIANG - 01:26:17 (15th overall)
14 km:
Men: 1 CHRIS MYLAND- 00:53:18, 2 JOHN CAIE - 00:53:51, 3 AUSTIN BROOKS - 00:54:08
Women: 1 MORGAN BALL - 01:00:21 (6th overall), VICKI FLEMING - 01:02:52 (11th overall), 3 LIBBY EVANS - 01:02:59 (12th overall)
7km:
Men: 1 MATHIJS WETZELS - 00:25:26, 2 MITCH AUDAS - 00:27:35, 3 TONY EMETT - 00:28:30
Women: 1 CLAIRE CHAPMAN - 00:35:37 (22nd overall), 2 MIA FLETCHES - 00:35:41 (23rd overall), 3 JULIE SHEPHERD - 00:35:58 (24th overall)
Matua Mile:
Men: 1 BLAZE MILLER - 00:05:29, 2 HARRISON TISCH - 00:06:15, 3 JOSEPH CHAPMAN - 00:06:29
Women: 1 MILLIE TISCH - 00:06:40 (5th overall), 2 MIA MCGRATH - 00:07:22 (7th overall), 3AMILIE BARCLAY FRANK - 00:07:27 (9th overall)
All results are available at: https://secure.tiktok.biz/results/taurangahalf/2016