Bethlehem schoolboy Navarone Williams today seized an opportunity to shake hands with the most powerful man in the world. And two of his sporting heroes LeBron James and Magic Johnson.
It was the actually the hand of United States ambassador to New Zealand Mark Gilbert who was making his first sweep through the region and dropped by Te Wharekura o Mauao, the Māori immersion secondary school.

Ambassador Mark Gilbert with one of the students. Photos: Bruce Barnard.
But when Navarone heard Ambassador Gilbert had only two weeks ago shaken hands with President Obama in the White House and had shot hoops with the basketball stars, he wanted a bit of reflected glory. So the Ambassador extended that hand and an impressionable 15-year-old eagerly grasped it.
The school visit was about building relationships. "(Americans and New Zealanders) are very similar people," says the Ambassador.
"We have the same values, we are entrepreneurial, we are innovative and if you really think about it, we are close but should be a lot closer."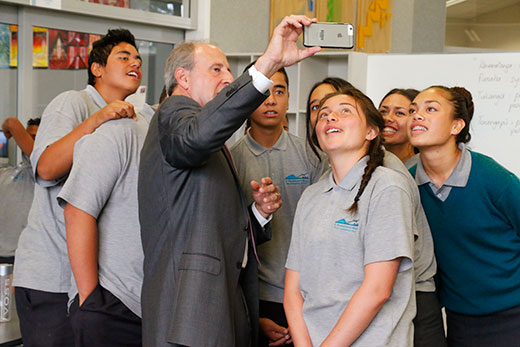 The Ambassador was doing more "building" yesterday and learning all about the kiwifruit industry.
"I talked to everyone - from people doing the plant research to the growers, the packers and the shippers."
He also met with industry and business leaders over dinner.
"We discussed trends and what we thought the near term future would be.
And from what he's seen and heard, Mark Gilbert believes Tauranga's in great shape.
"Just look at the growth and you have something happening that a lot of places don't. There are a lot of young people coming back. And when that happens the possibilities are unlimited."
The ambassador on Donald Trump – "As an ambassador I am non-partisan. But the United States is not what you hear from Donald Trump. We are not bigoted, we are not frightened of immigrants. The election rhetoric is out of control and what you hear from Donald trump is not what the President nor I stand for."
On TPP – "there were a lot of New Zealanders who'd heard a few things they thought might happen with TPP. But I think when people are educated about it and understand it, a lot have changed their minds. It's good for New Zealand and the entire region."
The ambassador used the example of a person in the dairy industry.
"He thought TPP was going to be bad for him. But now he's seen what it means for his specialised products, it's going to be an advantage to him. It's a plus."
He says a lot of the protestors at the time of signing couldn't explain what they were afraid of.
Before he left Te Wharekura o Mauao, Mark had some advice for the young ears.
"Never not go to anything. We have lots of time to rest and sleep but if you are presented with an opportunity, take it. You never know who you will meet. That someone or something could change your life."
The former financial business high flyer and major league leadoff hitter had a baseball analogy.
"The person who is best prepared will always be the most successful. If you are prepared for every ball, of every innings, of every game you will always succeed over someone of equal talent who isn't as prepared."
And he told the school the President has the toughest job in the United States because he gets to answer questions no-one else has answers for.