While the rain held off for the arrival of North Shore Air's first scheduled flight from North Shore to Tauranga this morning, the aircraft, a Piper Navajo ZK-JGA, still got wet.
The Tauranga Airport Fire Service gave ZK-JGA a water canon salute to welcome the twice-daily service to the Bay of Plenty.

The first North Shore Air flight from Dairy Flat in Auckland landed in Tauranga this morning. Photos: Grayson Ottaway.
The first flight was flown under the command of Daryl Williamson and Andrew Underwood.
The new air service offers Tauranga business and leisure passengers a quick and easy air link that avoids the hassle of negotiating Auckland rush hour traffic.
Aviation Safety Management Systems director Heather Andrews says that the Dairy Flat flight incorporates a direct connection with the Auckland central business district that can move passengers from Dairy Flat airfield into the city in just 20 minutes.
"It can be quite a nightmare to get from Manukau [where the existing airport is] to the city," explains Heather.
"You have to go the evening before if you have an 8.30am or 9am meeting because of the traffic.
"This plane has a really special feature – a beautiful corporate minivan – so it goes straight down the bus lane from North Shore so you are in town in 20 minutes."
CEO of North Shore Air Peter Newman says the flight time is 40 minutes and the adult fare is $249 one way.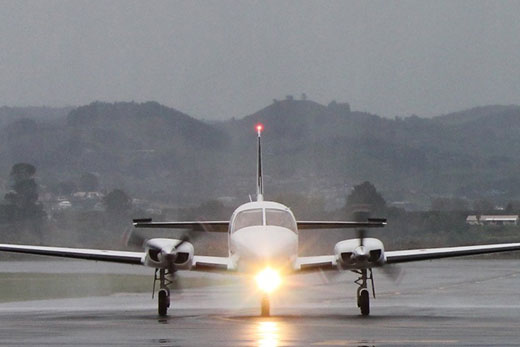 For more information, visit: www.northshoreair.co.nz