Tauranga lawyer Bill Holland has been presented with one of five Tindall Foundation awards for his efforts in the community foundation movement, led by the establishment of the Acorn Foundation 12 years ago.
The awards were given out by the Tindall Foundation, the philanthropic family foundation of Stephen and Margaret Tindall, to mark its 20th anniversary.
Bill Holland. Photo: File.

Bill's award recognises his huge personal commitment and passion for driving the community foundation movement in the Bay of Plenty and across New Zealand, notably his leadership in establishing the Tauranga-based Acorn Foundation in 2003.
He was Acorn Foundation chair from 2003-2011.
Bill is also chairman of the Community Foundations of New Zealand, encouraging people to be generous by leaving a gift to their community which will have lasting impact.
These foundations manage endowment funds where the capital is maintained and a percentage is paid out each year to an organisation chosen by the giver or through a general untagged fund.
Today, the Acorn Foundation is respected as the leading Community Foundation in NZ.
More than 220 people in Tauranga have established their own endowment funds, a figure which is growing every year. Some give while they are living, but the majority of the giving will be when people pass on.
Stephen Tindall says: 'The Tindall Foundation acknowledges Bill's outstanding contribution to the emergence of Community Foundations across the country, supporting our desire to weave generosity into the fabric of NZ society."
Bill says he is honoured to accept the recognition on behalf of Community Foundations across NZ.
'It goes without saying that stronger communities build a stronger country. The vision of The Tindall Foundation to invest substantial funds to help establish and ensure the success of Community Foundations in New Zealand is coming to fruition. In the long-term this will be one of the major success stories of the Foundation and will be a lasting legacy."
Nationally, New Zealand's 13 Community Foundations have over $40 million under management and over $160 million in anticipated funds.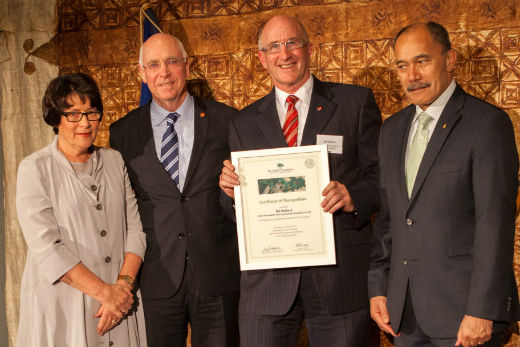 Lady Margaret and Sir Stephen Tindall, Bill Holland and Governor-General Sir Jerry Mateparae at the Tindall Foundation Awards. Photo: Supplied.
The other four awards were given to Foundation chose to recognise five exceptional organisations, acknowledging them for their outstanding and tireless work for the good of the community and our environment the New Zealand Housing Foundation, the Mountains to Sea Conservation Trust, SPACE NZ Trust and Project Lyttelton.
Stephen and Margaret Tindall founded The Tindall Foundation following the float of The Warehouse in 1995. They decided to use a percentage of their shares to establish a philanthropic family foundation. Today, it is the largest of its kind in New Zealand giving away more than $10M annually.
In the past 20 years, The Tindall Foundation has supported more than 5000 organisations across New Zealand with $135 million in donations, as well as capacity building, social loans and other strategic support.