Learning a dance is one thing – but performing a choreographed routine under water is a whole new challenge.
But it's something the New Zealand Synchronised Swimming Team – The Aquaferns – are good at.


The Aquaferns performing a synchronised swimming display at Baywave yesterday. Photos by Tracy Hardy.
The national side are making a splash in the North Island Synchronised Swimming Championships at Baywave this weekend, alongside more than 50 synchronised swimmers competing in solos, duets and team events.
The national side is preparing to travel to The Spanish Open, The Swiss Open and World Championships next month – holding their breath for the Oceania spot at the 2016 Olympic Games in Rio de Janeiro.
Tauranga Synchro's Sarsha Younger says to qualify for a top spot, the Aquaferns have to beat their Aussie rivals.
"Previously Australia has got that spot every single time so we have to beat Australia in order to get that top spot. Australia's our main competition."
The 22-year-old swimmer says they'll also be keeping a close eye on Russia, who have been the top team for about 10 years, followed by Spain and China.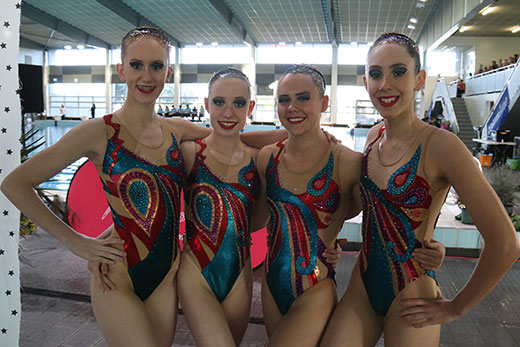 Bay of Plenty Aquaferns: Eva Morris, 17, from Papamoa, Amy Lowans, 15, from Omokoroa, Sarsha Younger, 22, from Tauranga, and Jazzlee Thomas, 16, from Te Puna.
Sarsha says it's going to be 'really cool' competing with some of the world's top synchro swimmers. "It's going to be quite an honour. We're training with the Spanish team when we're in Spain, so that'll be pretty cool."
Tauranga Synchro has four girls in the Aquaferns – Sarsha Younger, Eva Morris, Jazzlee Thomas and Amy Lowans. They will perform their Free Team routine today at 9.15am and 10.30am.
Sarsha is pretty excited to be performing in front of a home crowd at Baywave.
"It's nice because a lot of these people are my family and my friends who have been so supportive, so it's nice to be able to swim for them and to show them where there support has gone."
Swimming since age 2, Sarsha qualified for the Aquaferns in 2008 at age 15.
"I've always been a water baby. But synchronised swimming is so much more fun than swimming laps.
"It takes a lot of practise and I'm a bit of a perfectionist. It's just really challenging and fun."
Synchronised swimming is a demanding sport requiring great strength, endurance, flexibility, grace, and precise timing.
The national team train 40 hours a week, combining about 25 hours of water training with strength and conditioning at the gym, about five hours of flexibility and some ballet practise.
"It's important to know what you're doing first on land so you can do it in the water because it's a lot more complicated in the water," says Sarsha.
Synchronised swimming also requires exceptional breath control when upside down underwater.
So how long can Sarsha hold her breath? "We get asked that question all of the time," she laughs.
"It's not something that we really time. But I could maybe do three lengths under water. But when you're swimming a routine it's much harder to hold your breath."
The Aquaferns will perform their Free Team routine today at 9.15am and 10.30am. Spectators are welcome between 9am-12.30pm. Baywave spectator entry fees apply.