Representatives from Tauranga's three iwi appeared before MPs at a select committee hearing in the city on Thursday and expressed their opposition to the new foreshore and seabed bill.

Members of the public at the select committee hearing in Tauranga on Thursday.
The select committee, which includes Tauranga MP Simon Bridges, is travelling around New Zealand hearing submissions on the Marine and Coastal Area Bill.
Labour's controversial foreshore and seabed legislation was repealed earlier this year and it is hoped the new Marine and Coastal Area Bill will replace it.
Linda Te Aho was one of the main speakers for Ngati Ranginui's eight hapu at the hearing in central Tauranga.
She told the select committee Ngati Ranginui opposes the bill because it gives Maori a 'subordinate' form of title to the foreshore and seabed.
The proposed bill allows Maori to claim customary title to parts of the foreshore and seabed, either through direct negotiation with the government or by taking their case to court.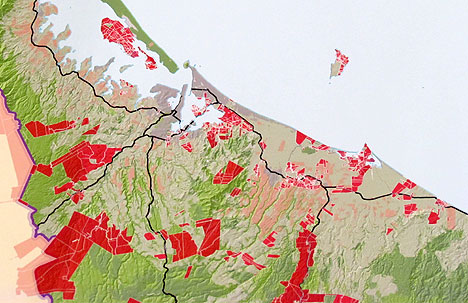 A map showing Maori land ownership in the Tauranga area.
She says Ngati Ranginui is not only concerned about the form of customary title included in the proposed legislation, but also the process her iwi would have to go through to achieve the 'watered down' form of ownership.
The bill stipulates that for Maori to claim customary title they must prove 'uninterrupted' and 'exclusive' use of the foreshore and seabed since 1840.
Linda says Tauranga iwi have suffered extensive confiscation of coastal areas since 1840 and it would be impossible to show they had uninterrupted and exclusive use.
'What we are saying is that confiscation substantially interrupted the use and occupation, rights and ability of the Ngati Ranginui people."
Rehua Smallman, chairman of another Tauranga iwi Ngati Pukenga, says the bill does not put Maori on a 'level playing field' with other private land owners of coastal areas.
'There is a lot of coastal areas in New Zealand already in private ownership where public access in denied."
'The finger is being pointed at Maori but they are not looking at private titles that already exist."
He says New Zealanders should not be worried about being denied access to the foreshore and seabed if Maori are given customary title.
'The majority of Maori will not deny public access."
Ngati Ranginui wants the bill modelled on a past agreement reached between a previous government and Auckland tribe Ngati Whatua.
She says the agreement allowed Maori to co-manage the foreshore and seabed with the local council.