The lengthy fracture from his eye socket right along his skull might be a vivid reminder, but jet skier Adrian De Villiers isn't planning on taking his hand off the throttle anytime soon.
Fresh into his second demonstration on the opening day of the Tauranga Boat Expo, the freestyle jet skier knocked his head while trying to do a one-footed back flip, dropping from his 200-horsepower jet ski and into the water.
Adrian De Villers with son Byron, 3, recovering at his Gate Pa home. Inset: an MRI scan of Adrian's fractured skull. Photo: Ross Brown.

He was taken to Tauranga Hospital then flown with an intensive care unit transport team to Waikato Hospital after suffering the fracture and a blood clot on the brain.

After returning to Tauranga, however, he was miraculously discharged just six days after the accident.

And speaking exclusively to SunLive from his Gate Pa home, Adrian knows he is lucky to have walked away without further injuries in what was a "freak thing".

A video of the incident below shows the 43-year-old going up in the air when his foot came out of its binding on the jetski and he was pitched over the handlebars.

Jet Ski accident from Sun Live on Vimeo.

Hitting the water with only his hand separating his face and the front of the jet ski, he briefly lost consciousness with two men jumping in the harbour to hold him afloat until an IRB could take him to shore.

Involved in flat water freestyle stunts for about a year since moving up to Tauranga from the South Island, Adrian admits the incident was a harsh reminder. Yet there are no immediate plans to hang up the wetsuit.

He says: "It has happened before [falling off] but hopefully it doesn't happen again. From now on I will have to wear a helmet.

"There is no chance [I will stop]. There are some big plans happening still."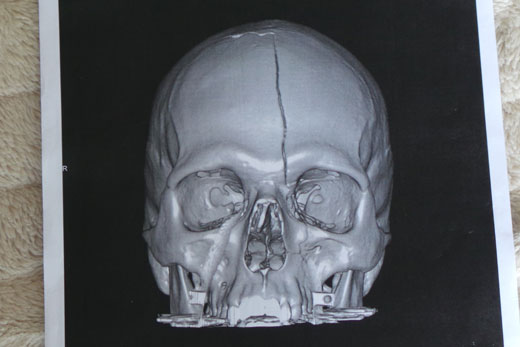 A close up of Adrian De Villiers' MRI scan, showing the extent of the fracture.

Consigned to the couch for at least the next month to help reduce pressure on his brain, Adrian's job as a forklift technician with AB Equipment and future demonstrations nationwide are currently on hold.

Despite this he is looking ahead to getting back onboard his custom built $45,000 Rickter jet ski in time for a New Year's demonstration in Gisborne.

"The doctors were initially saying six months," he adds, "but because I don't have any other wounds leading to any infection, the recovery time will be much quicker."

"I have got off pretty lightly."

Standing on the waterfront watching was wife Debbie who, like other spectators, was not entirely sure whether the accident was part of the show or not.

"When he was doing it I expected him to get back up on the ski again," says Debbie, "but when I saw him just floating there in the water I began screaming my head off."

She says the wait to hear the prognosis was made easier as Adrian was lucid and able to speak, and she marvels at the quick recovery he is making, paying tribute to the staff at both Tauranga and Waikato hospitals.

"Getting the updates and seeing the fracture in his head panicked me a little bit," adds Debbie.

The family's injury streak was compounded when both of their sons both injured themselves, with their eight-year-old banging his ear and their three-year-old with a broken leg, leaving Debbie juggling her time between the three.

"It was a crazy day for the De Villiers family," says Adrian.

For further updates on Adrian's recovery click here.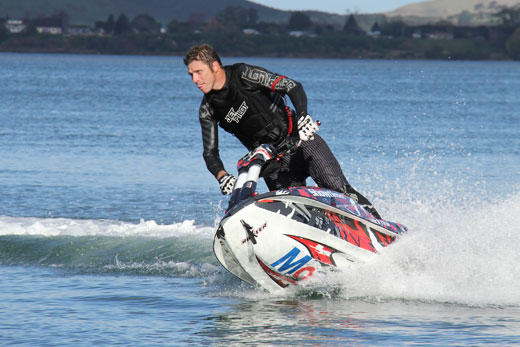 Adrian is hoping to be back on his jet ski in time for a New Year's demonstration in Gisborne.