Waihi woman Sarah Spicer walked out of her first X-Factor audition with a disappointing "no" last year – but this time around she's earned a "maybe".
Sarah was one of the hundreds of X-Factor hopefuls who lined up at Club Mount Maunganui on Tuesday to see if they can become the next recording superstar on the New Zealand talent show.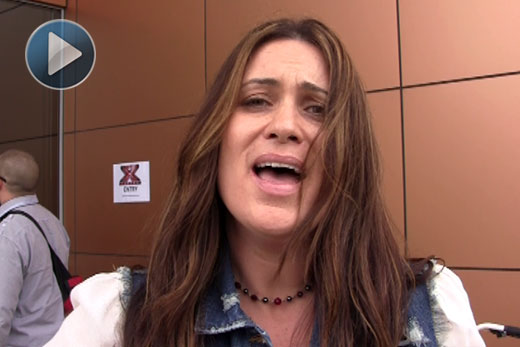 Click the image above to watch the video
Waihi woman Sarah Spicer received a call back for the X-Factor NZ Tauranga auditions.
Supported by her partner and two sons, Sarah belted out an original song to the three judges.
"It went really well." She says. "I was a bit nervous and my mouth was quite dry. But I sang what I wanted to sing and they were quite happy."
Mount Maunagnui-raised musician Stan Walker, who fronted the X-Factor television advertisement, was nowhere in sight, but the three judges who were there gave Sarah a well-deserved "maybe".
This means Sarah will receive a call in two weeks to let her know if she can go through to the next round.
In the meantime, she'll be preparing some new songs to sing in the competition.
Sarah auditioned for the talent show last year, but didn't get through. This time round, the singer says she felt a little more confident.
"I feel good," says Sarah. "I perform all the time so I'm pretty well rehearsed so it's lucky I've got that under my belt."
The X Factor NZ production team are travelling around the country auditioning musicians aged 14 or older for the show until November 2.
Those successful at the pre-auditions will then perform at the TV Auditions in front of the four judges and a live televised audience.
Contestants who are successful at TV auditions will then move on to Boot Camp, then Judges Retreats.
The Top 12 contestants will be mentored by four judges who are among the best in the music business. The competition winner receives a recording contract with Sony Music NZ.
Worldwide, The X Factor artists have globally sold over 100 million records, achieving 250 number ones, 270 top 10s, and 501 top 50 hit records.
Locally, the first season of The X Factor NZ launched the music careers of finalists Jackie Thomas, Whenua Patuwai and Benny Tipene, who between them have achieved a No.1 gold record, two top five albums, two platinum singles and one gold single.
The X Factor NZ will air in 2015.