Pukehina film producer Kylie DellaBarca Steel is breathing a sigh of relief after 100-plus actors, stuntmen, children and crew successfully invaded Summerhills Recreation Farm at the weekend.
Transported into the Welcome Bay bush location by 4WD, the group was shooting the action-filled climax scene of 'The Z Nail Gang'.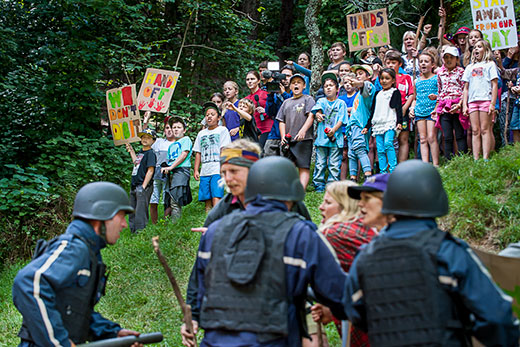 A class from Pongakawa Primary perform as extras in 'The Nail Gang' with their teacher Laurie Bonsor, who is the movie's extras co-ordinator. All photos courtesy of Andy Belcher.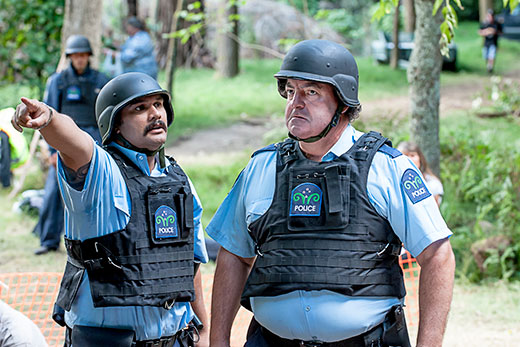 Actors Coben Storer and Geoff Dolan play the roles of police officers in 'The Z-Nail Gang' on location in Summerhills Recreation Farm.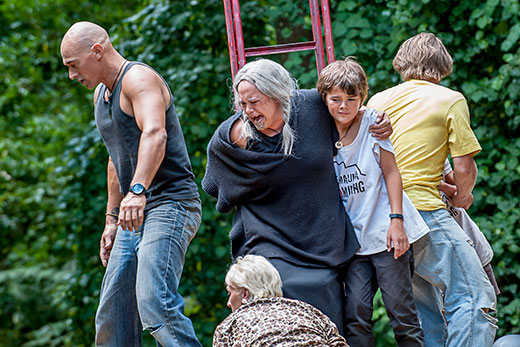 Actor Vanessa Rare performs an emotional haka and waiata in her part as 'Aunty' in the climax scene of 'The Z Nail Gang'.
The community-resourced feature film, based around anti-mining protesters in the Coromandel in the 1980s, has been in production in Te Puke since February 19.
Kylie, who is making the film with director-husband Anton Steel, says the couple had little sleep last Friday night.
"This is the one weekend I wanted to get to and get through – I'm feeling a lot more relieved to be on the other side," says Kylie, who had 40 crew, 25 cast, 10 stuntmen and extras, about 24 school children and another 30-plus adult extras on location in Summerhill on Saturday and Sunday.
"We had about 110-120 people there – and the action and drama took place 360 degrees, with three cameras capturing pivotal moments. We were doing the climax of the movie, which is when protestors descend on a drill rig site to prevent drilling taking place.
"It was a huge weekend, we were there both days and had a helicopter, sponsored by Eastpack, fly in.
"We filmed the helicopter dropping off one load, which is quite incredible because there are trees all around and the helicopter lowered as far as it could get, safely to the trees.
"Then it actually brought a load down in front of the camera; and then the second time protestors came and sat on the drilling platform and stopped the helicopter dropping off its load."
But Kylie says the most intense part of the weekend happened when actor Vanessa Rere, who is playing Aunty, stood on the drill rig and performed an incredibly powerful haka and waiata (song).
"It literally had everyone – even the children – standing still in silence, just in awe of her moment.
"Even when we done the close-up on her, everyone sat in their seats and there were tears because she did it so powerfully – it's going to be an incredibly powerful moment in the movie."
Kylie says the action was fine-tuned with help from stuntmen from the NZ Stunt Guild.
"These guys film all around the world as stunties – and Stuart Thorp, the stunt coordinator, did an amazing job of piecing together a huge action sequence of stunts, which is really incredible."
Kylie, who is now re-scheduling this last week of filming around oncoming increment weather, says the climax shoot was the pinnacle to overcome in the movie's production.
"It's the climax of the movie, but it's also the coordination of stunts, helicopters, a huge art department making the drilling rig, the extras, the fact we had children on-set; and feeding them all as well."
Z fuel station catered food for Saturday's filming, while Te Puke Scouts catered for Sunday and Maketu Pies provided pies," says Kylie.
Maketu-based photographer Andy Belcher, who photographed Sunday's action, says it was amazing to work with more than 100 people on-location in a beautiful setting.
"Most of what I saw filmed was on a platform they'd built, a protest platform I suppose, and they had police all around and fighting going on – it was pretty impressive."
"There was one scene where a Maori woman was crying and screaming 'get away don't do that' and it was really emotional – everybody applauded it was so good – I enjoyed that part."
Andy says the organisation of the filming was also impressive.
"There were 100 people and they fed us all – that impressed me, and just the professionalism of the film crew really impressed me."
Kylie still has one big scene still to capture this final week.
"The aim was to get a scene of protestors blocking a road to stop a drill rig coming through –but how we do that now, and in what way, according to the weather, will be interesting."