Motorists travelling on State Highway 29 along the Kaimais are being warned of a van that caught fire in the Hamilton-bound lane.
Firefighters were called to the vehicle fire in the passing lane heading up the hill towards the summit at about 3.45pm.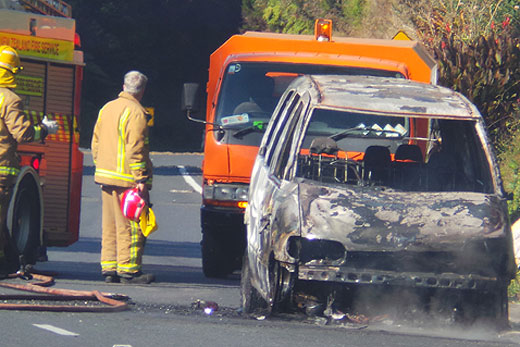 The remains of the vehicle that caught fire on SH29.

Northern Fire Communications shift manager Scott Osmond says a van caught fire on SH29 near Soldiers Rd.
"That actually caught fire to about 20 square metres of scrub as well, which was part of an embankment.
"We've been there nearly an hour now and it's all under control, and the fire hasn't got past the embankment."
A reporter at the scene says the small van is completely burnt out on the roadside of the highway.
There is a small amount of blackened vegetation on the verge of the road.
Motorists are using the passing lane to travel around the vehicle.