WAVE TROTTER:Zorro and Matthew enjoying the surf at Mount Maunganui. Photos and video by Tracy Hardy.
Mount Maunganui's latest surfing sensation Zorro the piglet is turning heads as he rides waves across the ocean beach.
Around lunchtime, Zorro - energised from his breakfast of bread and milk - and his owner Matthew Bell head down to the beach to check out the swell, and if things look promising its surfs up.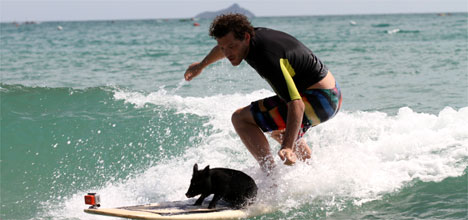 The 27-year-old Mount local has been teaching his pet piglet Zorro to surf for the last three weeks.
"I have always thought surfing with a pig would be a novel thing to do. I just wanted to give it a go and see because they are good swimmers."
Matthew's family have always kept pigs and Zorro, a mixture of kunekune and domestic, with possibly a bit of wild boar thrown in, is one of the family's new additions.
Zorro, who is now just over six weeks old, first went surfing when he was three-weeks-old and Matt says "he loved it".
"I just wade out and chuck him on the front of the board before paddling out with one arm."
Zorro still has plenty of room to run along and jump off the 9.6 foot longboard when he wants.
He says surfing with Zorro is pretty easy and he only has trouble when Zorro starts to squeal with excitement.
Kept busy during the day, Zorro also heads along the beach for his daily walk, much to the amusement of other beachgoers.
"Everyone is really into it. It's quite strange, and makes people smile and laugh.
"Everyone takes a second glance."
Zorro is beginning to attract a following with 40 likes registered on his own Facebook page titled 'Zorro the Frother', created on Monday.
Although already growing fast, Matthew says Zorro should be able to continue surfing with him for another four months. He is also an ambassador in the campaign to raise awareness of seabed mining on the west coast.
"I want to raise awareness for Kiwis Against Seabed Mining (KASM) like Dave Rastovich."
In 2012 Dave completed the ambitious 350km open ocean paddle Cape Taranaki to Piha to also raise awareness for Kiwis Against Seabed Mining (KASM) and the critically endangered Maui's Dolphin.
To see more of Zorro visit his Facebook page at: http://www.facebook.com/pages/Zorro-The-Frother/125580664291318?ref=stream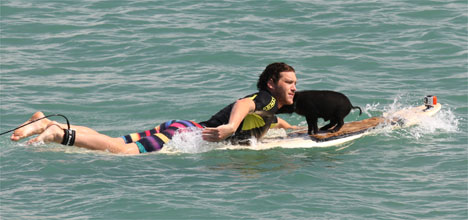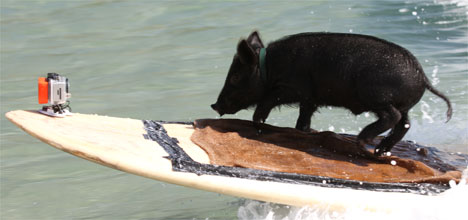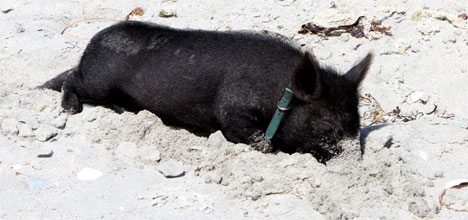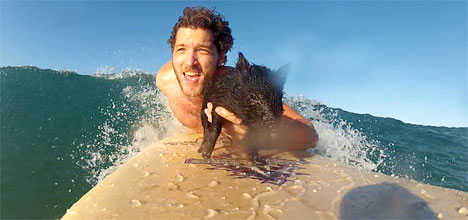 Photo by Matthew Bell.