The New Zealand kiwifruit industry has a bright future, despite the hardship growers are currently experiencing because of Psa-V, the new Minister for Primary Industries Nathan Guy believes.
He made the comments on Friday morning during a visit to Psa-V affected orchards and the Plant & Food Research Centre in Te Puke.

New Minister for Primary Industries Nathan Guy was impressed with the quality and quantity of the new gold kiwifruit variety G3 being grown organically on Jeff and Shirley Roderick's Te Puke orchard.
"From what I have seen at Plant & Food scientists are close to making a good break through but it is a difficult environment right now for growers. However, I am optimistic about the future of the industry," he said.
The minister visited the organic orchard owned by Jeff and Shirley Roderick who have removed their entire Zespri Gold Hort16a crop because of Psa.
Their Hayward green vines are infected and they have grafted to new varieties, which also have the disease, but the plants are carrying a promising crop for harvest this season. The Minister later visited a more severely affected orchard before a meeting with Zespri.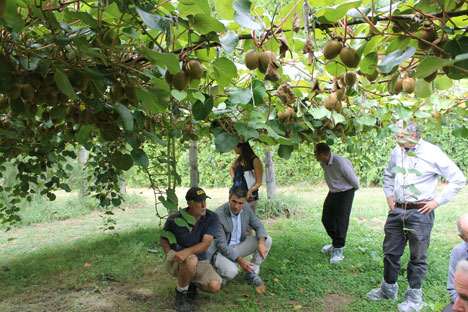 Organic kiwifruit grower Jeff Roderick (left) explains the complexities of growing kiwifruit in the Psa-V environment to Minister for Primary Industries Nathan Guy.
Nathan said the Government has made a significant contribution to the industry to help in the Psa-V battle, including an initial $25 million in funding to support growers and for research and development. Now the impacts of the disease have been declared a medium scale adverse event there were avenues of support available through IRD and WINZ for growers.
Growers who needed additional short-term funding to continue growing fruit in the more costly Psa-V environment should be talking to their normal lenders, such as banks, he said.
Growers had voted by an 86 per cent majority in favour of a National Pest Management Strategy for Psa and Nathan said the next step was for him to review the proposal, along with his ministry's advice, before deciding whether to take it to cabinet for final approval. Should it be approved, the policy would levy growers one to two cents a tray of fruit which would enable Kiwifruit Vine Health to work closely with growers who were struggling to manage Psa orchards.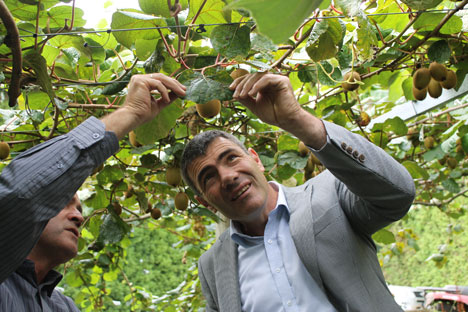 Signs of the disease Psa-V are explained to Minister for Primary Industries Nathan Guy (right) by Barry O'Neil CEO of Kiwifruit Vine Health.
Nathan said while he had been aware of the severity of Psa-V in the Bay of Plenty in particular, through his previous role as associate Minister for Primary Industries, Friday was the first time he had visited infected orchards.
"Today I have seen the extremes, from a pit in the ground at the Plant & Food orchard in which infected plant material is being buried, to Jeff's orchard which appears to be doing well despite Psa."
Jeff Roderick's orchard appeared healthy at first glance but he told Nathan that Psa-V had so far cost him several hundred thousand dollars in management and the loss of income from the previously lucrative gold fruit, which he had partly countered by cutting costs.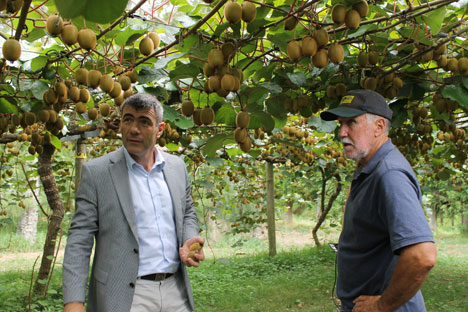 Minister for Primary Industries Nathan Guy (left) discusses the impacts of the disease Psa-V with organic orchardist Jeff Roderick.
However, Jeff said while his orchard appeared to have the potential to remain economically viable in the new Psa environment, nothing was certain and he sympathised with growers whose orchards were not in such favourable growing areas and who had significant debt to service.
Jeff said he has been able to manage Psa on his orchard without losing his organic status but is concerned at the significant increase in pest insects this season. "We can't seem to get the levels of leaf rollers and scale down. In the past numbers have been controlled by parasitic wasps but percentages have jumped significantly."
Jeff said he was unsure of the reason but wondered if because the plants were fighting Psa-V infection, they were more vulnerable to attack by the insects.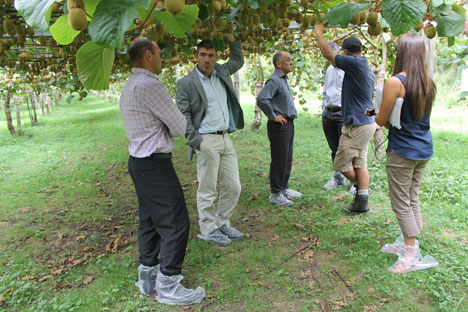 Foot security - Minister for Primary Industries Nathan Guy (second left) and the party accompanying him wearing plastic shoe covers as part of bio-security measures to reduce the risk of spreading the bacterial disease Psa-V.