Two Bay of Plenty acts have been named as part of the Smokefreerockquest national finalists.
Made up of seven bands and three solo-duos, and coming from all over the country, the top acts are gearing up to play off at the Smokefreerockquest National Final at Q Theatre in Auckland on September 18.
Mabel Affleck from Bethlehem College will be competing in the solo/duo category, while Big Angry from Otumoetai College will compete in the band category.
Big Angry's full line up is Nixon Ririnui (vocals, acoustic guitar), Jack Baker (lead guitar), Ashton Blair (bass) and Ben Waton (drums).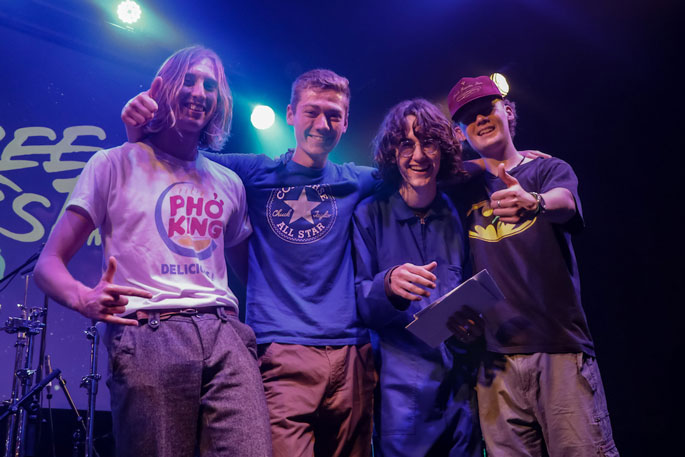 Big Angry.
Smokefreerockquest, now in its 34th year, is recognised as the launching pad for many great kiwi musicians, with a legacy that includes names from Kimbra to Alien Weaponry, and from Marlon Williams to Broods.
The programme attracted more than 750 submissions across the band and solo-duo categories this year.
Ash Wallace, a judge for the event, says she's incredibly impressed with the top acts this year.
"There was always going to be a unique energy and enthusiasm this year after such a hard year for the music community in 2020," says Wallace.
"The top 30 this year, all of them, submitted videos that were of an incredibly high standard. All the acts had written awesome songs, and were obviously having so much fun performing and sharing their craft.
"That is what music is all about so it has just been such a thrill to see that."
The top 10 national finalists are
BANDS
Albert St - Hamilton Boys High, Hamilton Christian School (Waikato) Big Angry - Otumoetai College (Bay of Plenty) Coast Arcade - Glendowie College (Auckland Central) Crumbly Jack - Palmerston North Girls' High School, Wellington High School, Hutt Valley High School (Wellington) Kenring - Middleton Grange School (Canterbury) Single Malt - Shirley Boys' High School (Canterbury) The Pills - St Kevin's College (Timaru)
SOLO-DUO
Esther and Matt - Manurewa High School (Manukau) girl. - Epsom Girls Grammar School (Auckland Central) Mabel Affleck - Bethlehem College (Bay of Plenty)
Highly Commended
Vegan Funk Machine - Mt Maunganui College (Bay of Plenty) The Bigfoot's - Opihi College (Timaru) Stacked - Rangitoto College (North Shore) Mia and OJ - Fraser High School (Waikato) Caesar - New Plymouth Boys' High School (Taranaki)