The Bay of Plenty's first peace pole has been planted in the Tauranga suburb of Greerton.
According to May Peace Prevail on Earth International, a peace pole is an "internationally-recognised symbol of the hopes and dreams of the entire human family".
The peace pole says 'may peace prevail on earth', a message written in many languages on peace poles around the world.
Samuel Hartman initiated the planting of the pole.
"I thought this would be a magnificent way to spread peace."
The peace pole planting is a project of the Religious Society of Friends, also known as Quakers, a New Zealand faith community with a worship group in Tauranga.
Quakers have meetings where everyone sits in silence, to allow "people to meditate in their own way".
Quaker Mary Rose says it's important for Tauranga to have a peace pole, because she believes the idea of peace needs to be talked about a lot more.
"Kindness is a notion that has come into our culture with a lot of flow-on but peace is another aspect of learning how to live together well, and accepting people of great difference."
A ceremony was held to plant the pole in the garden of the two women who had agreed to host the pole- Joy Rising and Mary Rose.
"As the project progressed it was difficult to find a site and we realized we could have it here very easily. The whole concept of peace is a big part of being a Quaker. It was something we could contribute to making this happen."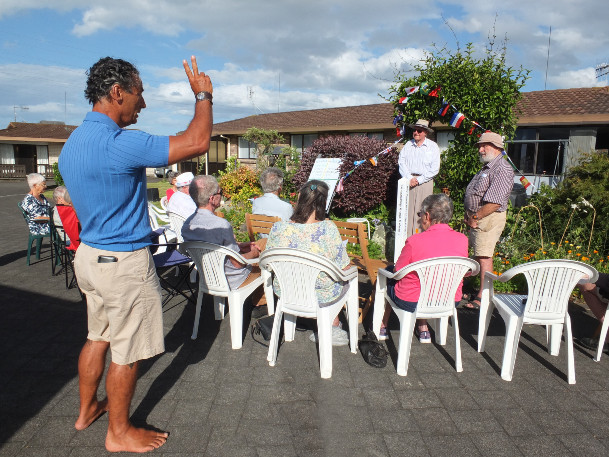 A crowd gathered to witness the planting with a karakia by Te Arahi Bryers.
Around 20 people attended the ceremony, including neighbours, Quakers and members of local iwi, Ngati Ranginui.
A string of international flags decorated an archway where a hole had been dug ready for the planting, with seats arranged in the driveway.
Three men helped to carry the 1.6m pole over to the hole for planting.
A moment of silence was held while the words on the pole were revealed, which had also been inscribed on the pole in Maori, Spanish, Chinese and English.
This was followed by a karakia delivered by Te Arahi Bryers, a kaiwhakahaere rangitahi (leader) in the community.
MPPOEI estimates there are over 250,000 Peace Poles in every country in the world, however in New Zealand there appears to only be two others- one outside the Otago Museum in Dunedin, and at Massey University in Auckland.
Samuel has another 2.4m peace pole, and is appealing on suggestions on where to plant it.
Mary says she hopes the next pole will be in a more public place where many will see it.
To see the pole that's been planted, head to 36 Oban Street in Greerton.