The ReMaker Space team have launched a huge selection of summer workshops to choose from during January that will appeal to all those wanting to improve their home or wardrobe, or just have fun.
The village of containers at Our Place in Willow St will be a busy hive of industry as people come along to learn to make their own bucket hats, scrunchies, dresses, kimonos, underwear and tote bags, as well as learning how to do clothing alterations.
Fashion designer Kerry Funnell will be running three workshops on converting a man's business shirt into a woman's shirt or skirt; learning the basics of using a sewing machine; and her popular 'Alteration Station' where people can learn to tailor their clothing to fit their needs and style.
Also making use of the sewing machines, Jera Mae and Kayla Holland will be running workshops on making one-of-a-kind bucket hats and teaching people how to sew.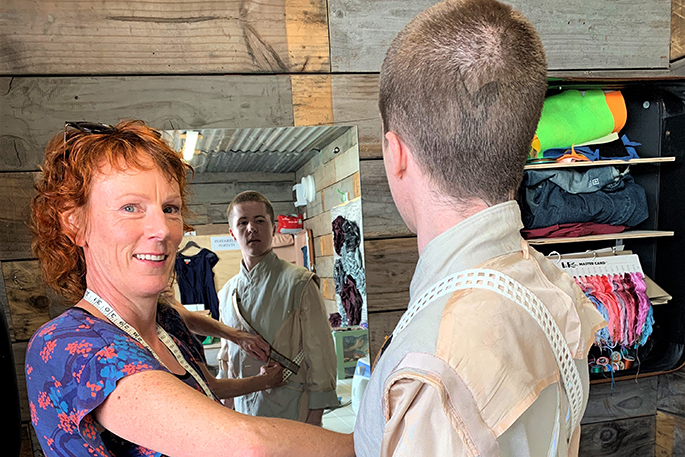 Rolph Hediger having a fitting with ReMaker fashion designer Kerry Funnell.
Sandra Landolt has some fun workshops for ages seven up including learning to create your own catapult, a wooden sword and shield to play with over the summer holidays.
Sustainability is at the core of Veto, where Charlotte Greer has zero-waste multi-purpose cleaning products.
"The idea is to make sustainable living as easy and effective as possible," says Charlotte. "All the products are multi-purpose, hypo-allergenic, biodegradable, grey-water safe, and septic safe."
The washing powder is both a laundry detergent and dishing washing powder in one. The soap slab replaces the plastic bottled dish soap and lasts at least five months, there's a spot stain remover, and the ReMaker Veto container is also a refillery for those who want to replenish with new product.
Ekarasa Doblanovic will teach how to make your own colours, pastel crayons and paints from scratch using different coloured soils from around New Zealand, including samples from the Bay of Plenty. Use these handmade paints to create your own painting masterpiece. She will also teach how to create paper from flowers, leaves and recycled materials.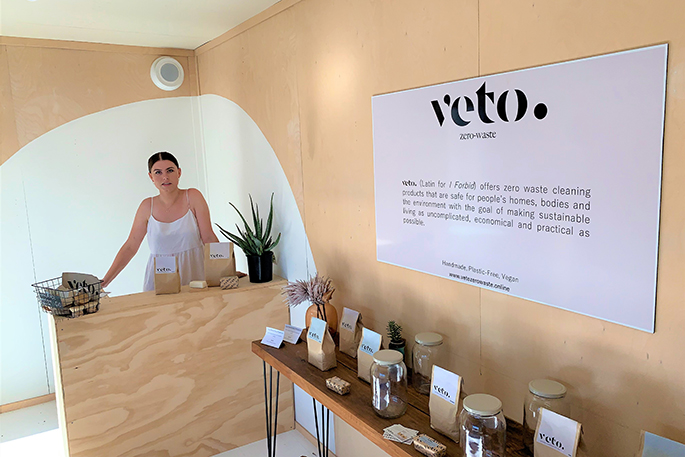 Charlotte Greer from Veto.
There are also workshops for those who want to learn to make wall hangings, wooden spoons and cutting boards, as well as learning about bike maintenance, plant propagation, and how to build the perfect storage box for your van or tiny home.
To book for a workshop go to www.remakerspace.co.nz