Drones, helicopters and more than 70 firefighters are continuing to battle the fire on Matakana Island.
The fire first broke out on the Panepane Point side of the island on December 13.
Firefighters spent the better part of a week battling the fire and dampening down hot spots.
It flared up again on Saturday, causing plumes of smoke to billow into the air and drift over Tauranga.
Principal rural fire officer Steve Webb says the fire, which is burning through a forestry block, increased from 19 hectares to about 40ha after it flared up.
Webb says the fuel source is making it difficult to get it under control.
"What we have is a problem where lots of fuel that hasn't burnt through and burnt properly, and it hasn't been consumed properly.
"So it is still smoldering and smoking so it gets worse in the heat of the day."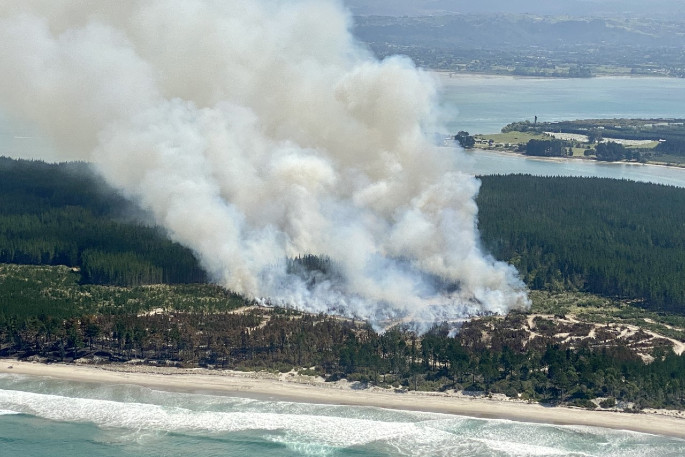 The fire on Saturday afternoon. Photo: Glenda Maplesden.
In a statement released today, Fire and Emergency New Zealand says 75 firefighters are continuing to fight a fire on Matakana Island.
"The fire began on December 13.
"Firefighters have been managing hot spots which have been identified by drones.
"While there is little smoke, the fire is still burning deep underground.
"Firefighters are making good progress and expected to be on scene for at least the next few days.
"We are working closely with local Iwi on the Island."
Fire and Emergency says they are aware of the smoke drifting towards Tauranga City and told residents if they were affected to stay indoors and close windows.
Those who need medical advice are told to contact healthline.