A Bay of Plenty resident is speaking out after finding out a mural in the Tauranga CBD is being repainted.
Anne McMillan says she doesn't usually get angry about things but she says she is really upset about this.
The mural is Owen Dippie's mural of Charles Goldie's Ina Te Papatahi which was on a wall in Masonic Park.
"At the moment it's being wiped, completely wiped, to be replaced with something else.
"I think it's to do with how at the moment there are people who are wanting to make Tauranga a mural city. Well what I think what they should have done, is they should have picked the murals that were of a too high of standard to be damaged and left those, and worked around the other spaces.
"If they can actually paint over a representation of a Goldie painting, then I'm scared for the one that's on the big wall, that's three stories high.
"I just think there's some stupidity going on. I think there's a massive ego problem at work when someone says okay let's just wipe the slate clean. I think that's very arrogant.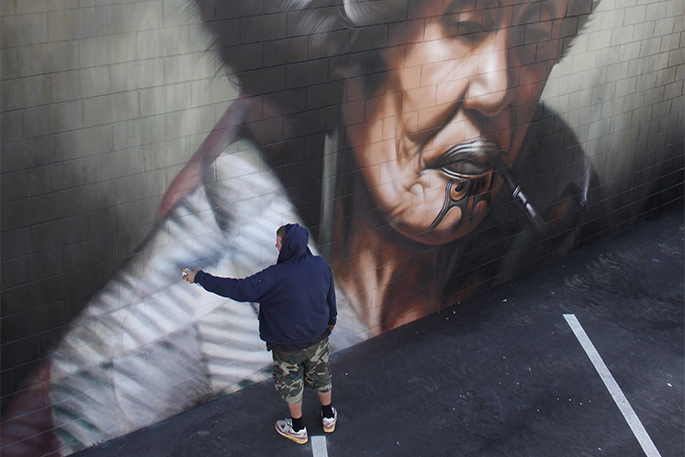 What the mural originally looked like. File Image/SunLive.
"I think they should have selected anything that was a very high standard and left it, and then designed their pictures around the other spaces.
"Why were the exceptional murals not identified first before everything was wiped clean.
"It's a terrible waste of money and it's very arrogant," she says.
SunLive contacted Street Prints Mauao festival director Jah Smith regarding the murals being painted over.
Street Prints Mauao, alongside local and international artists, have painted murals around Mount Maunganui, Tauranga and Te Puke.
Jah says all 18 artworks have been created in collaboration with local hapu and kaumatua based on the theme 'Ahakoa he iti, he Pounamu' the English translation being 'although small, it is precious'.
"This theme signifies the importance of our children and youth and the importance of taking small steps to care for them as a community and the focus on looking after the environment and earth so that it is still here for future generations.
"All 18 murals are bases on this Whakatauaki and are spread on walls throughout Tauranga, Mount Maunganui and Te Puke.
"The artwork has to mean something to the place it is painted in. This is important to our overall kaupapa.
"In total, Street Prints have curated over 60 public artworks in Tauranga alone. This year we had to paint over five old murals which have been enjoyed by the community for the past four years.
"Murals only have a life span of up to five years depending on their position to weather conditions and exposure to the elements. It also depends on the quality of the painting of the mural.
"With each mural we painted, we gain permission from wall owners to paint these murals and within the contract, it stipulates a timeframe. Some of the walls we painted back in 2015, wall owners wanted us to paint a new mural on them and that's okay because they own the building. We understand that this type of art is temporary," says Jah.