Mount Drury will be buzzing with activity on January 19 when a race event with a difference takes place.
Go Race uses an app to set challenges for teams from three categories, Go Active, Go Create and Go Think and participants have an hour to complete as many challenges as possible.
Event creator Stu Robertson says the race is designed to be all inclusive for families and anyone from a baby to a grandparent can take part.
"The unique thing with Go Race is it's all inclusive for the family.
"So there could be dad and three kids and they've got their running gear on and they want to run round and be really active, they can do that.
"Then you might have grandad and nana with the grandkids in a team and they can still participate and maybe have element of strategy around what challenges they choose to complete.
"It's not a race in terms of getting to a location, the race is actually to complete as many challenges in the timeframe available to earn as many points as possible."
Teams must include one adult and can have up to six participants.
Stu says an active challenge might be a relay race or push ups, a creative challenge could be coming up with a dance routine or team chant.
People need to photograph or record their challenge on a phone and submit it through the app for marking, he says.
The think challenges are cerebral, lateral thinking style challenges and are done directly through the app, they could be a riddle or rhyme, he says.
"All of the challenges are GPS activated, so they appear on the game screen as checkpoints.
"Teams will select a checkpoint it'll give them a little bit of an insight as to what the activity is.
"Then to activate it they physically have to go to that location where the check point is to be able to access the challenge."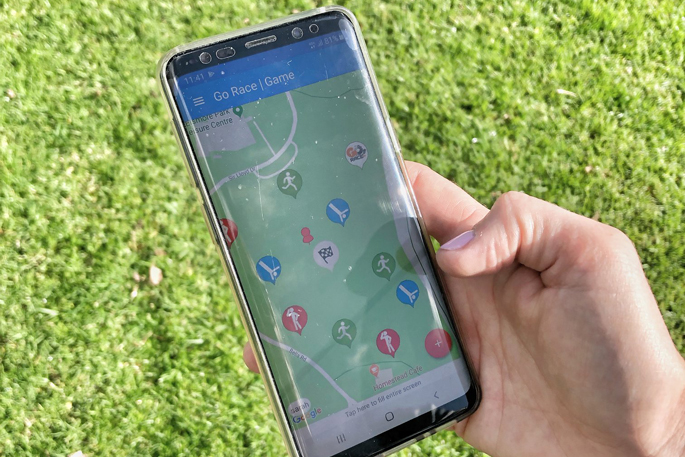 Go Race uses an app to set challenges for teams. Supplied image.
Stu created the event because he saw a gap in the market for an inclusive family event.
"I've experienced personally different types of events and different things with the kids, but there's not a lot out there that gives the opportunity for the whole family to participate.
"The mission is around creating unique family experiences and giving an opportunity where families can come together and do something together to build those positive relationships and lasting memories.
"Everyone can participate all at the same time, it caters to all the different age ranges, physical fitness levels, it embraces technology in a positive way.
"We hear so much these days about kids and technology and tablets in a negative way well, this embraces it in a positive way.
"It draws on some sound experiential learning activities and theories and actually brings families together."
The Go Race Mount Maunganui event is on January 19, and a race is being held in Tauranga on February 16.
SunLive has two family passes for up to six participants to give away, enter the competition here.
For more information about Go Race visit the website.