There was Hollywood glitz and glamour at The Rombies on Thursday night as film directors, actors and photographers vied for the sought-after Rombie awards.
Named after Otumoetai College Media Studies teacher Ellen Rombouts, the Rombies, held on October 17 in the Otumoetai College Performing Arts Centre, was an Oscars-themed awards evening that celebrated film and photography.
The Rombies attracted 31 entries from students.
Jese Somerville, who won Best Junior Photo, also won the Rombie for Best Photo. The Best Senior Photo and People's Choice Photo award were both won by Danielle Gaensicke. Best unedited photo was won by Reed Parr, and the Best Photo Taken on a Phone award was won by Abigail Griffiths
In the film category, the Rombie for Best Film was won by Emily Ardern, who also won the People's Choice Award.
The Rombies for Best Actor went to Gabe Fisher, and Best Actress to Abigail Griffiths. Amy Ko and Anya Hawkins won the Rombie for Best Silent Film and the Rombie for Best Storyline; and Meela Scholmann won the Best Editing Rombie award.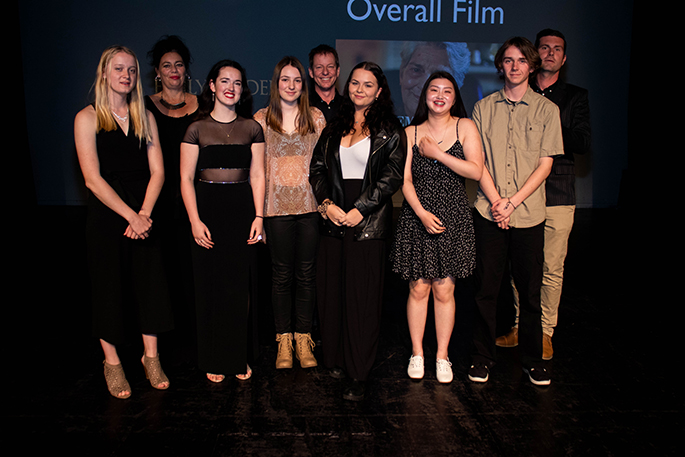 Judges with winners of the Rombies
Open to all Otumoetai College students, the event provided an opportunity for students to showcase their passion and talents.
"The evening, which screened all entered films and a photography display, allowed for guests to select their choice for 'People's Award'," says Year 13 Otumoetai College student leader and publicity committee co-leader Sam Wakerley.
In good-humoured banter, awards and prizes were given out while 70 guests enjoyed food and a fun night of entertainment while seated at elegantly presented tables.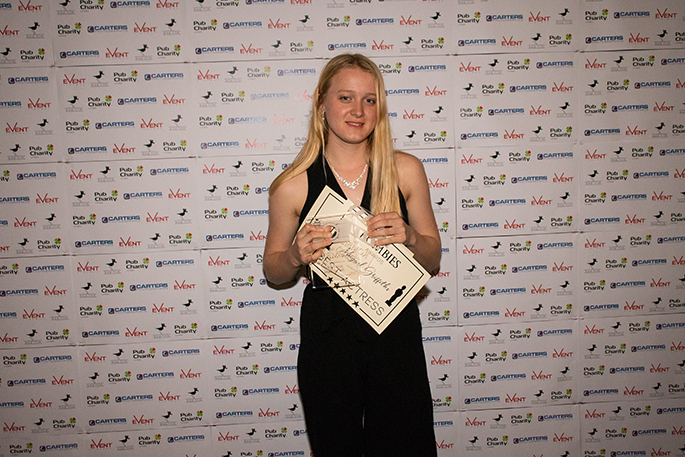 Abigail Griffiths won Best Actress award
"The Publicity Committee have worked hard for the past five to six months on creating this event and as it is the inaugural event we had a lot to do," says Sam. "It all started with being inspired from the Oscars and then it took off from there.
"Pub Charity funding and sponsorship meant that we could award themed, personalised trophies and decorate the room appropriately.
"Event Cinemas sponsored prizes which went with winning the film awards and Carters Photographics in conjunction with Film Bay of Plenty sponsored the prizes to go with the photography awards."
The judges for the awards were Joshua Buxton from Otumoetai College, retired ex-Otumoetai College photography teacher Colin Mossong, Baycourt Community Engagement Coordinator Ellie Smith and Film Bay of Plenty Events Manager Jannine Speirs.
Ellen was very impressed with the awards night publicity committee of Sam Wakerley, Jayde Leedes, Louise Bremner, Kess Wilson, Tara Sanson, Vincent Miller, Anna Gilmour and Levi Williams.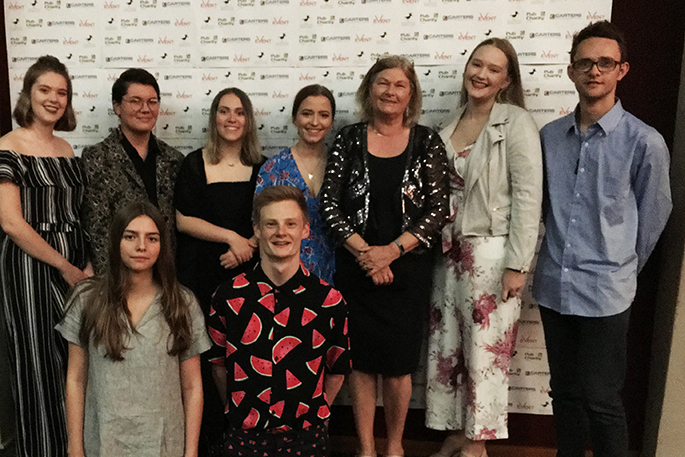 The publicity team
"Sam and Jayde came to the college with a passion for producing media and during the past five years have produced radio podcasts, short films, community non-profit campaign videos, print publications and a documentary after having been awarded a media scholarship to China in 2018," says Ellen. "The standard of professionalism is a tribute to their continued development of skills and high expectations"
Louise was a finalist in the Young Enterprise Regional Awards.
"Louise's business skills were invaluable in achieving the level of sponsorship required to present the evening in style," says Ellen. "Kess, Tara, Anna and Vincent excelled in graphic design for the tickets, programmes and posters while Levi's musical talent added the polished final touches.
"What they have achieved is stunning; a credit to them individually and collectively. Amazing young adults who have left a very positive mark."
Ellen says The Rombies night was run professionally and in Oscar-esque style.
"I could not be prouder of their success. Each member of the committee showed expertise in their own field and then worked together as a cohesive unit, displaying skills well beyond their years."
Sam was happy that the team had worked together to see the whole process right through.
"I am proud to say that we have pulled off an amazing event which is of such high calibre," says Sam. "Good luck to next year's committee. We are all looking forward to seeing what will come of the event next year.
"Thank you to everyone who came, congratulations to everyone who won and to all 31 entries, you have made films which are all achieving a really high standard of creation and you should all be very pleased with yourselves. Never give up your passions and I am sure we will see you at the real Oscars or in an art gallery in ten years."