Prime Minister Bill English has seen for his own eyes the impact of the flooding in Edgecumbe.
During a press conference in Whakatane today, the Prime Minister says the flooding is ongoing and there will be serious consequences.
"I have visited the town, the Fonterra Factory and the evacuation centres. When you go into town you can see there is going to be quite serious consequences for a significant number of households.
"The town is empty and the river is still flowing into the town, so the flooding is ongoing. It hasn't stopped yet.
"We have had a briefing from Fonterra about a significant number of farmers who have had their operations affected.
As Bill went to the evacuation centre, it was made clear to him just how supportive the community has been.
"It's pretty clear that some of the people are going to need ongoing support for some time."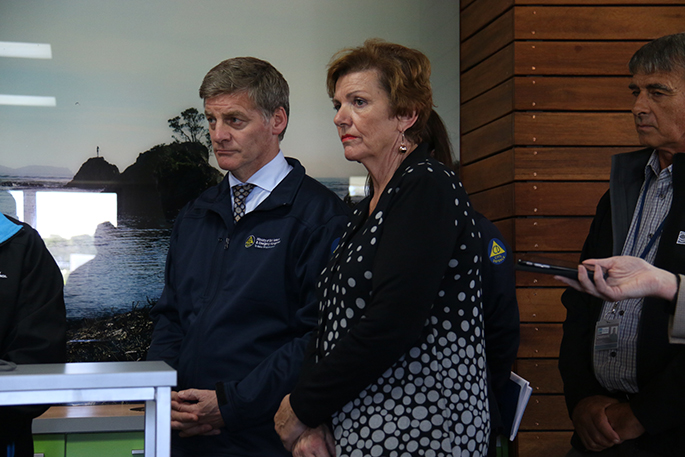 Anne Tolley and Bill English at the conference in Whakatane this morning.
While people are anxious to see when they can get back into their homes, Bill reiterates that the town is still flooding and people should not be trying to get back to their homes right now.
"People should not be trying to get back faster than the local authorities here say."
He says while the impact on the country as a whole will be minimal, the impact on individuals can be massive.
"We are on a path for solutions in the long term.
He says there are no funding issues related to national disaster recovery, despite New Zealand's particularly bad decade.
"We don't let funding get in the way of providing the support that's needed by the households, the businesses, and the farms, to a reasonable level, to help them get them back on their feet."
Whakatane Mayor Tony Bonne says there will be a full investigation to why the flooding protection system didn't work and what can be done in the future to prevent this from happening again.
Bill says given the destruction there is bound to be a lot of opinions but there needs to be a full understanding of a town that is on a flood plain.
Other communities
Tony says food and other assistance is being taken into towns such as Taneatua and Ruatoki today.
"We can get into Taneatua by road now, it's not isolated anymore. We are monitoring all those areas and they have not been forgotten.
"We are working closely with people in those areas."