Kate Steed has portrayed the human relationship with bees in a new series of paintings on display at the Cottleston Gallery in Greerton.
Her fascination with bees sent her on a bee art journey about four years ago, and she tracked how the honey bee (Apis mellifera) has been carried to new continents as humans expanded their footprint across the globe.
"They are our insect companions," says Kate. "Each country has its own native bees, but we have carried our own bees with us to each country."
The sweet aroma of honey was evident stepping in through the doors of the gallery at the opening of the exhibition on Friday evening. Small pottles of honey were ready for visitors to taste and enjoy as they wandered through the rooms viewing the paintings.
A collection of more than 50 portraits, each one depicts a person and in some cases an imaginary character like Pooh Bear, showing a relationship with the honey bee. More paintings will be added to the exhibition over the next week as Kate completes them.
Each portrait may include a bee, or it may instead have a flower or honey product painted in, such as a lemon liqueur, or a honey pot. Some portraits are of Tauranga locals and artists, and there is one of Wei Lun who is well-known for his Chinese style paintings. He is depicted with his favourite flower, the peony.
The exhibition, titled 'The Bee Appreciation Society AGM' explores Kate's and others' reactions to insects in general.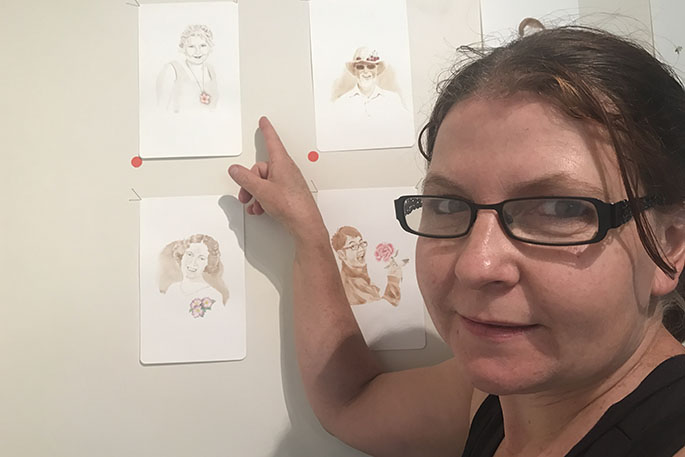 Nicci Baxter finds her portrait on the walls of Cottleston Gallery.
"Like ants and doves, we have used them (bees) as symbols or metaphors to illustrate worthy human behaviour," says Kate. "It's amazing how many sayings incorporate bee ideas."
"These industrious creatures are an important part of our lives, breeding and working seemingly at our bidding, for us. And this exhibition is an attempt to create a place where people, real and painted, can gather in appreciation."
The exhibition at Cottleston Gallery, 128 Oropi Road, runs until March 19. Open hours are Tuesday to Sunday from 11am-4.30pm.