Lipika Sen and Prabhjyot Majithia are erecting one of their most memorable tricky box sculptures yet.
Created especially for Tauranga's Christmas in the Park, it's more than just a Christmas tree, and is more than just about giving. Some sculptures are for looking at, but Lipika and Prabhjyot's work is something that the audience becomes a part of.
'What completes the work is that moment when people interact with it and enjoy it," says Lipika.
'It is amazing to watch the absolute involvement in the 'now' that happens, such as when there is a grandparent on one side and a grandchild on the other side, with exactly the same expression."
So what is it?
Designed by the two artists, this 4.5m high tree with its 12 geometric 'tricky' boxes is a multimedia interactive art piece with sound and lights, made from wood, steel, bamboo and LED lights. Conceived to be like a game, it provides an entertaining way to discover yourself.
Lipika and Prabhjyot were hard at work on Saturday night assembling and erecting the tree so it's ready by 1pm Sunday afternoon for people to come, explore and put their wishes in to it.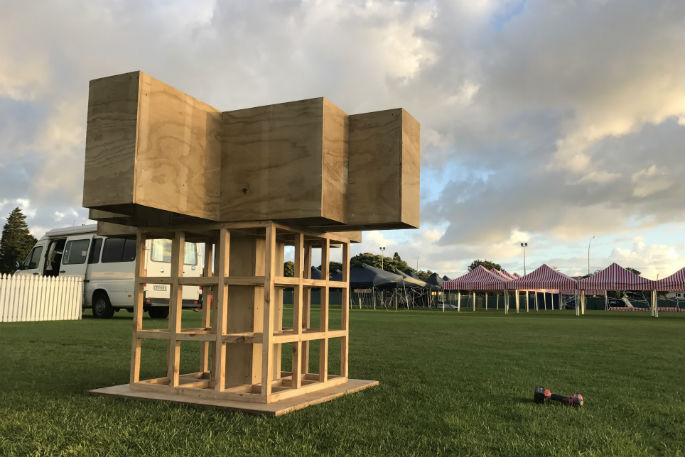 The Tricky Box Tree of Giving being assembled Sunday morning, photo by Rosalie Crawford
Looking in through the small circular window of one box, I spin the wheel and an image appears, with a message that resonates with me. I immediately experience an inner smile and happiness moment. I feel like I'm 'in the now'.
This box seems to be helping me see myself. I want to explore further. Another box plays Tiki Taane's song No Place Like Home recorded at last year's Christmas in the Park.
'When you find yourself," says Prabhjyot, 'it's finding the kiwi in you too, from a fun perspective rather than a kiwiana perspective."
There is a box for writing messages for people affected by the Kaikoura earthquakes, and another one for posting wishes and memories about loved ones.
The tricky boxes are at human height. Why 'tricky'? It's part of a series that reflect that outside of us we see one thing, yet other layers lie within us, often hidden. It takes time and care to find and explore the inner world of ourselves and those around us. This reminds me of the allure of puzzle boxes, which have non-obvious mechanisms for opening them and seeing what's inside.
When people become part of this Tricky Box Tree of Giving, the sculpture seems to come to life.
The artists have become well-known through their signature Tricky Box series of art installations. One of their pieces of public art, a 6m high steel and acrylic kinetic sculpture, The Firkee Wala – In My Heart Of Eternal Childhood can be seen spinning and swooshing with the wind in New Plymouth.
Creating multi-dimensional works that include sculpture, acrylic on canvas, digital drawings, words, sound, music and film, they have won several awards.
Their works have been exhibited at the National Fieldays No. 8 Wire Art Awards, 2014 Waikato Museum, Whakatane Museum 2015, the Tauranga Arts Festival 2015, the Hamilton Garden Arts Festival 2016 and commissioned by the Tauranga City Council 2016.
The artists' recently shown interactive sculpture Jugalbandi in the Park was appreciated for the 'happiness it brought to the NZ Sculpture on Shore 2016 site at Fort Takapuna, Auckland", says Lipika.
They were also featured at Ted X Tauranga 2015 with their signature Tricky Box series of curious multi-media, experiential works that has been touring major shows and events across NZ.
The Tricky Box 5 – The Curious Indian Water Well that showed at the last NZ Sculpture on Shore 10th Biennale (2014) has been recently acquired by a Tauranga sculpture park.
The artists wish to share their joy at Tauranga's Christmas in the Park 2016 with this specially created Tricky Box Tree of Giving.