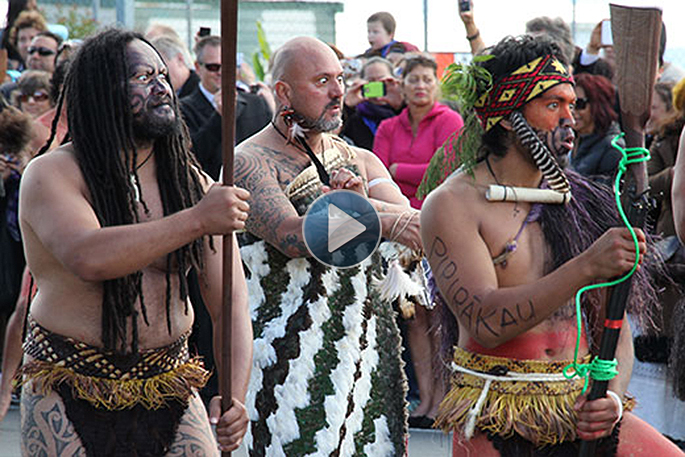 Click the image above to watch the video
Councillors and staff from three councils are among the mourners who will be attending Ngati Pukenga's Te Whetu marae over coming days for the tangi of Te Awanuiarangi Black.
Awanuiarangi passed away in Tauranga Hospital last night after a short illness.
A Bay of Plenty Regional Councillor, Awanuiarangi is also known to the Western Bay of Plenty District and Tauranga City councils, underscoring his recognition in both the Maori and Pakeha worlds.
"He was a leader within the community in that he was able to move in both worlds, interacting with the people and the knowledge that he has to advise councils," says chairman of the Tauranga City Council Tangata Whenua/City Council Committee Huikakahu Kawe.
"This was endorsed by the people and I think there were many benefits towards the council in terms of understanding things of tikanga, but also in terms of issues they were dealing with."
Selected as a young person to be educated in traditional knowledge, Awanuiarangi was faithful in not only representing his hapu, but also the wider Tauranga Moana and marae around Aotearoa.
He had national respect, says Huikakahu.
"It's definitely a sad loss for Maoridom. A lot of young people he put a lot of teaching in. He was only a young man but he had a lot of knowledge and wisdom of the elders.
"He was chosen as a young person and achieved all that knowledge and so he was faithful to that knowledge not just in representing his hapu Ngti Pukenga, but the wider Tauranga Moana, and well respected on all the marae here and many of the marae around Aotearoa."
He had national respect, especially in the last three years in terms of the land wars and the commemorations of Pukehinahina and Te Ranga in Tauranga.
Awanuiarangi co-wrote the haka for the 150th pukehinahina commemoration.
The haka describes the lead up to the battle itself, the code of conduct and acknowledge some of the leading figures, before talking about the confiscations and finishes by accentuating the hope for the future.
A Radio NZ interview with Awanuiarangi about the Pukehinahina haka is here.
"He was leading the young men of the new generation to stand up and understand who they were and all those sort of things," says Huiikakahu.
"He gave them a sense of belonging, an identity. He helped them to raise their sights to understanding who they really were to stand tall, proud; those sort of things.
"It will be a big loss in terms that he had many years ahead of home."
Former Tauranga Mayor and current regional councillor Stuart Crosby also respected Awanuirangi Black's place in both worlds.
"Our paths have crossed on many occasions and at many events. He was very much a leader in the community not just the Maori community, but in the community.
"My reflection is he was very much a learner and educationalist and one of those people able to cross over from the Maori world to non-Maori world and explain.
"He was a very powerful presence in a marae situation. To see him speak was incredible really."
Awanuiarangi was a strong advocate for the "Homai Te Ra" campaign to make an official commemoration day for the New Zealand Wars.
He also ensured a Maori presence on the Toi Moana-Bay of Plenty Regional Council, pushing for compulsory Maori seats, reports Maori Television.
Awanuiarangi Black was a commissioner at Te Taura Whiri i Te Reo Maori (Maori Language Commission) and lecturer at Te Wananga o Raukawa with a keen knowledge of Maori history and culture.
He was also one of the contributing writers of "He Pataka Kupu" the first comprehensive monolingual Maori language dictionary.
He established the Tutara Kauika kapa haka group in 1992 with a dream to revitalising te reo Maori and the histories of Tauranga Moana.
In 2015 he led his group as the first Tauranga Moana team from the Mataatua regionals to Te Matatini kapa haka nationals in Christchurch.
He was part of the treaty negotiations group Te Au Maro o Ngati Pukenga covering areas in Tauranga Moana, Hauraki, Maketu and Whangarei from 2005-2011, and stood as a Maori Party candidate for the Tauranga General seat in the 2011 New Zealand General Elections.
Maori Party co-leader Te Ururoa Flavell is shattered at the premature passing of the iwi leader and tribal ambassador.
"Te Awanuiarangi was driven by an internal fire, burning within, which compelled him to make a difference in every sphere of his life.
"I loved him dearly, and I cannot believe he is no longer with us. As I prepare to go to the Iwi Chairs Forum today, I'm truly devastated to be carrying the loss of someone so precious with me into a gathering where I know many will be absolutely distraught by his death.
"Awanui had the courage and the commitment to stand and represent his people wherever he heard the call. He was a champion of so many things for our people and I could never comprehend how he managed to be in so many places at the same time," says Te Ururoa.
"But as diverse and comprehensive as the scope of his work was, today we feel particularly for all those who loved him as a Papa, a partner, a brother, a son."
Māori Party co-leader Marama Fox says the party was very proud that Te Awanuiarangi chose to stand for it in 2008 and 2011, both for the Tauranga electorate, and on the list.
"He was an ardent supporter, an energetic party strategist and an enthusiastic ideator, always creating new scenarios and policy ideas to take the campaign in new directions."
"I knew of his remarkable reputation in education long before I met him.
"I'm sure that in the national gathering of iwi leaders over these next few days, there'll be much sadness at the loss of someone so instrumental in advancing iwi opportunities across so many sectors."
Te Ururoa says the Māori Party wept particularly for his darling daughter Parearau, who worked for him and for Dr Pita Sharples for many years, in the early years of the party.
"Parearau and her brothers and sisters are very much in our hearts as we mourn the loss of this amazing man. We know their father will be forever cherished not only in the legacy he leaves but also in the distinctive ways he has shaped their character and their passion for life. Our love goes out to them all at this time of such sadness."
Te Awanuiarangi's extensive contribution to te ao Māori included:
Te Reo Māori:
• Serving as a commissioner on Te Taura Whiri i te Reo Māori (Māori Language Commission)

• Being a writer of He Pātaka Kupu, the first comprehensive monolingual Māori language dictionary

• Authoring language revitalisation plans for his iwi

• Composing traditional literature and promoting and preserving te reo Māori in every setting, particularly his own home and marae

• Facilitating the new Māori language entity for Te Mātāwai for the Bay of Plenty
Education:
• Lecturing and coordinating Māori medium teacher education at Te Wānanga o Raukawa in Ōtaki

• Lecturering at the Waikato Tainui College for Research and Development and Te Wānanga o Aotearoa

• Being a leader of Ngā Kaikōkiri Mātauranga– Iwi Advocate for Education which was mandated by 57 iwi – all whom were actively engaged in education activities. Ngā Kaikōkiri Mātauranga was subsequently adopted by the Iwi Leaders Forum to progress the education stream.

• Sharing his extensive knowledge generously, whether it was about Matariki, the history of land occupation at Welcome Bay or general proposals for changing the world for the better
Local government:
• Elected member of Bay of Plenty Regional Council for the 10th Triennium 2016 – 2019; and being chair of the council's Komiti Māori

• Chair of Te Moana a Toi Leaders Forum (representative for Ngāti He, Maungatapu on the Ngāi Te Rangi Trust)

• Elected member for Mauao Māori constituency in which he led the special Memorandum of Understanding between Tauranga City Council and the historic mountain reserve Mauao

• He was also influential in the regional council's integration of tikanga Māori and was behind the council's adoption of its Māori name, Toi Moana.
Other:
• Leading the iwi response to the 2011 Rena disaster for well over two years

• Being on the committee for Toi Māori Aotearoa

• Being involved in Te Tuinga Whānau, a free social work, advocacy, information and support service to everyone regardless of ethnicity

• Helping to compose Te Peruperu a Pukehinahina for the 150th Commemoration of the Battle of Gate Pā; and leading that commemoration

• Just a few months ago, he presented to the Grand Round of the Bay of Plenty District Health Board about te reo Māori as rongoā for the health and wellbeing of iwi