Mount Maunganui's Bayfair Shopping Centre has plugged into the future with the launch of its two new electric vehicle charging stations.
The new stations will fully charge standard electric vehicles in approximately six hours.

Bay of Plenty MP Todd Muller and Bayfair Shopping Centre manager Steve Ellingford inside a Tesla P85+ electric car during Friday launch of two electric vehicle charging stations. Photos: Bruce Barnard
Along with the electric vehicle charging stations, the Bay has also installed two charging points for mobility scooters just inside the main entrance to the centre.
Centre manager Steve Ellingford says they were able to install the charging stations thanks to a grant from the Bay of Plenty Regional Council's Environmental Enhancement Fund.
"Friday's unveiling of the stations went really well and there were quite a few electric vehicle owners who turned out for the launch and were also using the stations which was really cool to see," says Steve.
"We also hugely appreciated having Transport Minister Simon Bridges with us on Friday to launch the stations, it's really fantastic and showed his commitment to electric vehicles."
Friday's unveiling was the culmination of work undertaken by Bayfair that began midway through 2015.
Steve says the centre wanted to offer free-to-use charging stations for its customers to use "in order to stay ahead of the pack".
"Electric vehicles are the future and for us it's about adopting new technology early. We pride ourselves on doing things first, we've carried out a number of 'environmental firsts' here at Bayfair and this was another opportunity for us."
After securing regional council funding, Steve says they were then approached by Powerco and Charge Net NZ who offered to install a rapid charger at the centre too.
The user-pays rapid chargers will provide an 80 per cent charge in 10 to 25 minutes – roughly the same time it takes to order and drink a cup of coffee.
"Having Powerco and Charge Net NZ approach us with that offer was just absolutely fantastic, being able to provide a service like this to our customers.
"When we were setting up the charge stations people kept asking what they were and once we explained what was happening we had a number of people telling us it was a great idea," says Steve.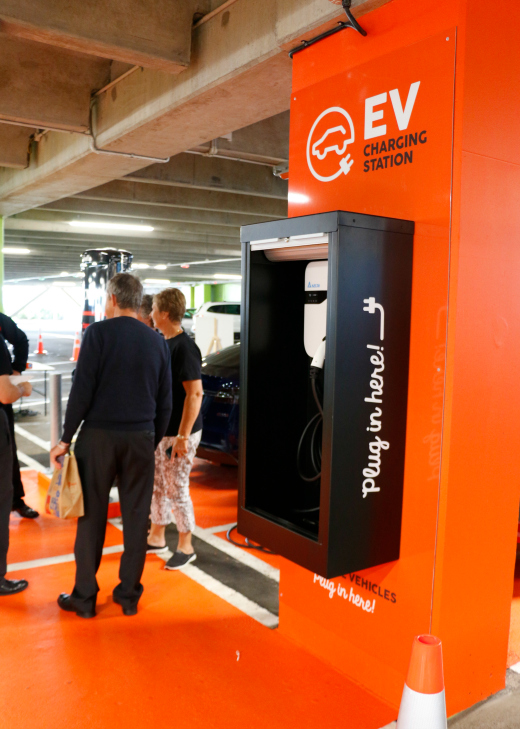 One of the two electric vehicle chargers unveiled at Bayfair on Friday.

Tauranga MP Simon Bridges says as the minister for both Transport and Energy and Resources, he's long been a proponent of electric vehicles.
He says it is great to see local businesses getting on board and providing this infrastructure free to the Tauranga community.
"While most charging will likely take place at the home or workplace, a network of charging infrastructure is necessary to support the increased uptake of electric vehicles. This will help facilitate longer distance travel and enhance the value of electric vehicles."
Simon believes the benefits of increasing uptake of electric vehicles are far-reaching.
Electric vehicles reduce our reliance on imported fossil fuels, reduce fuel cost and enhance the efficiency of our renewable electricity networks, he says.
"Across their life cycle — from resource extraction and manufacturing to driving and disposal — electric vehicles have 60 per cent fewer CO2 emissions than petrol vehicles.
"In addition, because of New Zealand's high renewable electricity generation, they have 80 per cent fewer CO2 emissions when driven here.
"If we start to replace our fleet with electric vehicles, we can begin to significantly reduce New Zealand's greenhouse gas emissions."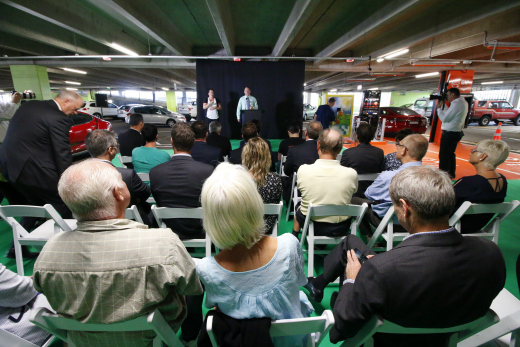 Bayfair Shopping Centre manager Steve Ellingford addressing the crowd during Friday's launch.