The Royal New Zealand Air Force's new Black Falcons aerobatic team was named in Tauranga earlier today – and the event was marked by the appearance of a native Karearea falcon on the airport's runway.
However, New Zealand falcon Mojo – the same bird that appears on a $20 note – was kept securely on falconer David Crimp's wrist having made the journey from the Wingspan Trust in Rotorua.
Falcons have a long standing association the Air Force, and the new aerobatics team will be flying T-6C Texans after the trainers were acquired over the past year.

The Texans replace the ageing Pacific Aerospace air-trainers, which have in use since 1998.

The 11 new planes are turbo-prop powered and twice as fast as the models they're replacing. They also boast pressurised cockpits and can fly to 30,000 feet.

They also house ejection seats, collision-avoidance, ground awareness warning systems, an F18 display and personal locator beacons for each pilot.

They are to be flown by 14 Squadron RNZAF, reinstituted for the new aircraft. It also links with a previous Black Falcons aerobatic team flown by 14 Squadron pilots in Aermacchis for the millennium celebration in 2000.

The purpose of the Tauranga event was to announce the date of the February 24-26, 2017 RNZAF airshow, which will mark the RNZAF's 80th birthday in Ohakea.

The new Black Falcons will be making their second public appearance after their debut, which is expected at Wings Over Wairarapa on Wellington Anniversary Weekend on January 23, 2017.

"It's not worth rushing into anything if you want to put on a good show," says 14 Squadron leader Anthony Budd.

"We do this outside of our normal jobs, and a lot of international display teams can't get their heads around it.

"We are instructors, and outside of that we form our display team. That's the Kiwi way."

Practice takes place in the skies near their Ohakea base during early mornings, evenings or weekends.

While the Air Trainers work for 'hands and feet' flying, the Texans' modern avionics provides the pilot with more information and helps situational awareness, says Anthony.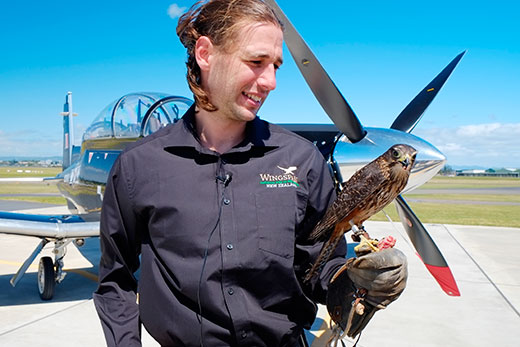 Mojo the New Zealand falcon, with falconer David Crimp.

And while other aircraft have been known to have individual characteristics within a type, the Texans are all almost exactly the same.

"These are just very well made, and they perform very well," he says.

Included in the package are two fixed base flight simulators, while 12 avionics desktop trainers are also part of the training package.

The first new pilot training course will start next year, with the T-6C Texan II aircraft expected to remain in service for 30 years.

The association with falcons is being used to raise awareness of the New Zealand falcon's reduced circumstances.

New Zealand's only remaining native bird of prey is under threat, largely because it is a ground nester in a land of cats, rats, possums and stoats, says falconer David Crimp.

Also known as a sparrow hawk, or bush hawk in different parts of the country, a full grown male bird like Mojo weighs in at 250 grams. The female bird is twice the size, weighing up to half a kilogram.

"They are still being shot, even though they are a totally protected bird," says David. "But farmers and land owners are still mistaking them for hawks."

There's a $100,000 fine and a five year jail sentence for anyone caught shooting at Karearea, but Wingspan Trust is still receiving birds that have been killed or injured by shotgun pellets.

"They are only found here in New Zealand, so it's important we protect them," says David.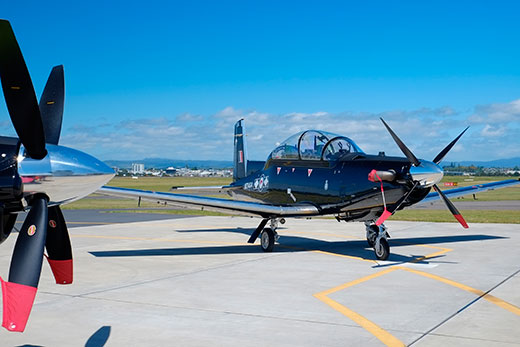 One of the new T-6C Texans.